That's A Wrap! Behind The Scenes of A TV Cooking Series
Christy Rost |
2 min read
During this beautiful autumn season when our sights are set on cozy meals with family and friends, season two of my national television cooking series At Home with Christy Rost continues to delight viewers. In late summer, my New York-based Eat This TV crew filmed twelve new episodes and thirty-four recipes in four jam-packed days at Swan's Nest – our 1898 historic home in Breckenridge, Colorado.
Unlike the previous season filmed in February when cold, snowy conditions kept us inside, this time we filmed in my studio kitchen, at the live fire ring, at the grill, on the front veranda, and in the shade of large trees to take advantage of our mountain surroundings and create a sense of the place that inspires me. I also tapped into some of the places my husband Randy and I have lived or traveled – Alaska, Albuquerque, Austin, Colorado, Texas, and towns along the Rhine River. The result is a culinary series that shares recipes as diverse as Navajo Lamb Tacos, Coffee-Rubbed Grilled Bison, Campfire Baking Powder Biscuits, New Orleans Muffulettas, Flame-Kissed Alaskan King Salmon, and Black Forest Gingerbread.
One of the recipes I created is Spice Cake with Cream Cheese Frosting. This two-layer, light-as-a-feather cake features the cinnamon and spice flavors we associate with autumn. Finished with a cloud of cream cheese frosting, this easy cake is ideal served after autumn meals and definitely as a Thanksgiving grand finale.
Sharing helpful tips is part of every episode. When it came to the spice cake, I suggested substituting one cup of milk mixed with two teaspoons of cider vinegar for recipes that call for buttermilk, whipping the cake batter on high speed just before baking because the air incorporated into the batter makes the cake extra light in texture, and using freshly ground nutmeg instead of purchasing pre-ground. The difference in flavor is delightfully noticeable.
At Home with Christy Rost airs on Eat This TV's channel on AmazonFire, Apple TV+, Roku, Samsung TV, YouTube TV, Channel Master, and other streaming platforms. I invite you to tune in this Fall for season two and then stay tuned for my one-hour Holiday special At Home with Christy Rost: CHRISTMAS airing throughout December.
Spice Cake with Cream Cheese Frosting
Source: At Home with Christy Rost, Season 2, Episode 212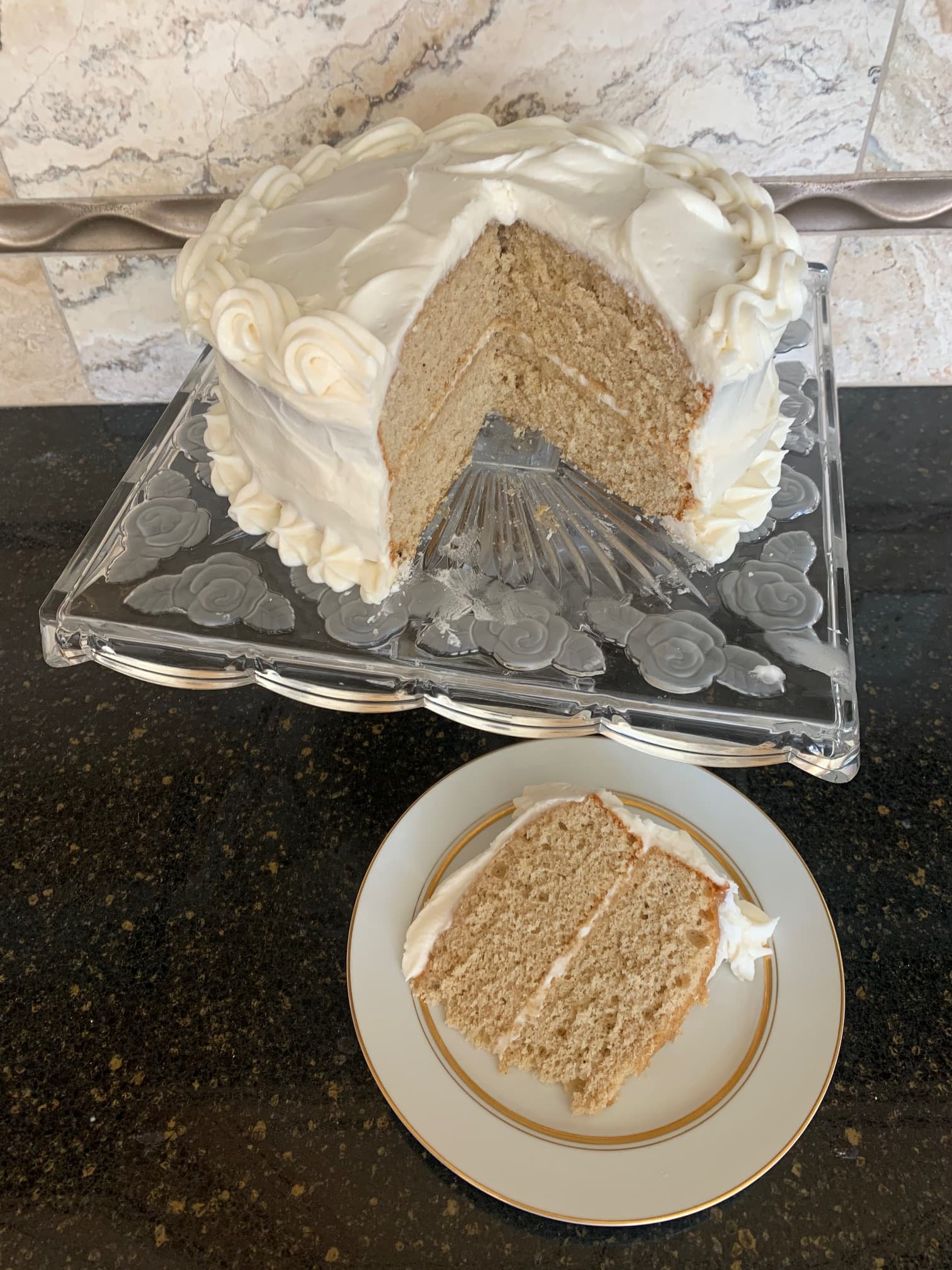 Cake
1 cup milk
2 teaspoons cider vinegar
½ cup unsalted butter, softened
1 ½ cups granulated sugar
3 eggs
3 cups flour
½ teaspoon baking soda
¼ teaspoon baking powder
½ teaspoon salt
1 ¼ teaspoons Saigon cinnamon
¾ teaspoon freshly grated nutmeg
½ teaspoon ginger
¼ teaspoon ground cloves
1 teaspoon vanilla
Adjust the oven rack to the middle of the oven and preheat to 350 degrees. Add vinegar to the milk, stir, and set it aside to sour.
In the large bowl of an electric mixer, cream butter and sugar until the mixture is light, about 8 minutes. Add eggs, one at a time, beating well after each addition.
In a medium bowl, stir together flour, baking soda, baking powder, salt, cinnamon, nutmeg, ginger, and cloves. Gradually beat the flour mixture, alternately with the sour milk, into the creamed mixture. Stir in the vanilla.
Line two 9-inch round cake pans with parchment paper, then spray the pans and the paper with nonstick cooking spray with flour. Pour the cake batter evenly into the pans and bake 28 to 33 minutes, or until a tester inserted into the center of the cakes comes out clean. Cool the cakes on a wire rack 30 minutes, remove them from the pans, and cool completely. Frost with Cream Cheese Frosting.
Cream Cheese Frosting
½ cup unsalted butter, softened
3 ounces cream cheese, softened
7 cups sifted confectioners' sugar
4 to 5 tablespoons milk
dash of salt
1 ½ teaspoon vanilla
In the large bowl of an electric mixer, beat the butter and cream cheese until they are well blended. Gradually add the confectioners' sugar, alternately with the milk, and the salt, beating until the frosting is thick and fluffy. Stir in the vanilla. Frost and decorate the cake as desired.
Yield: 1 2-layer cake