Jewel Tea Cookies Are Fit For A King
Christy Rost |
2 min read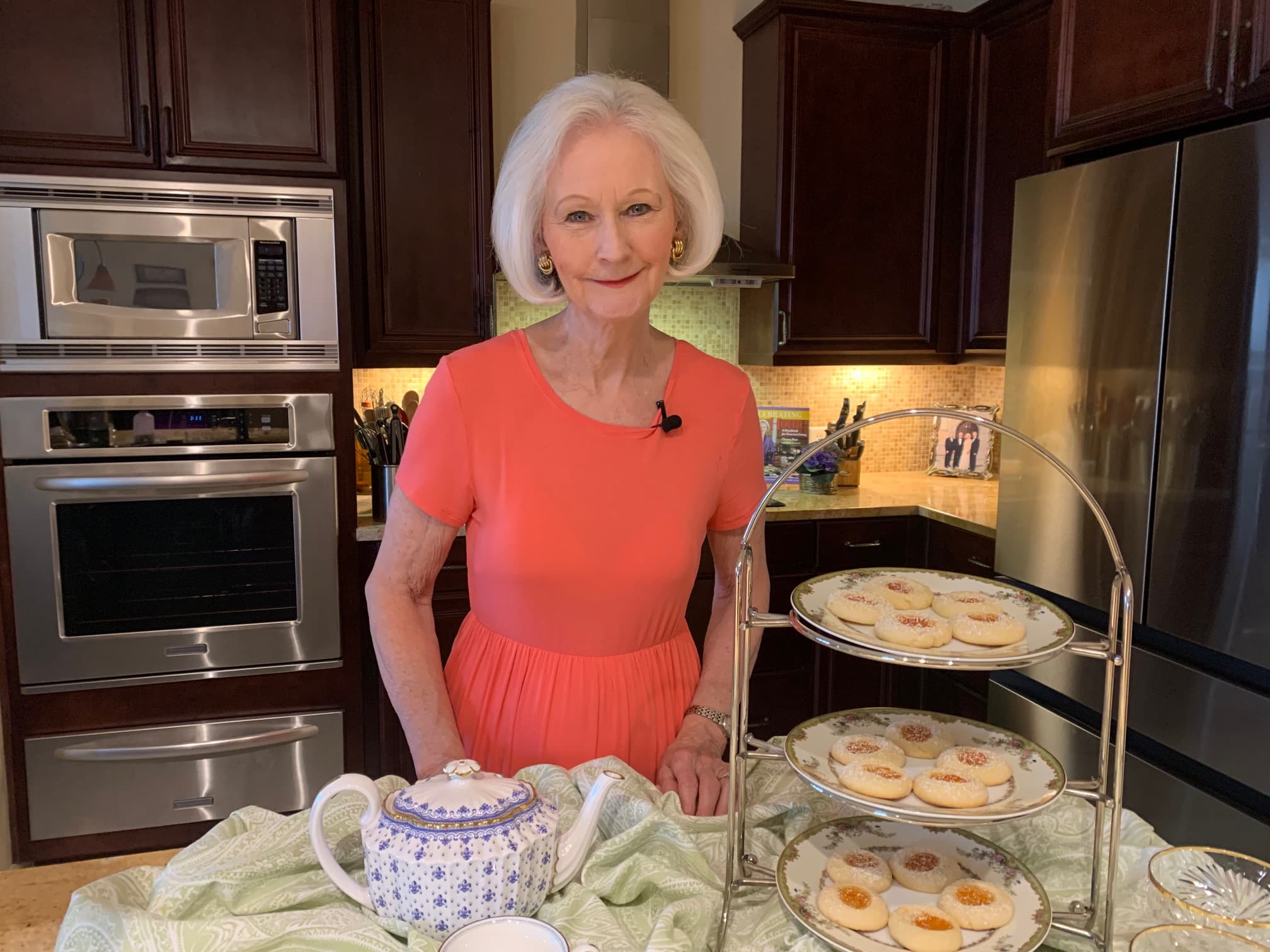 King Charles' May 6th coronation is just days away but has been on my calendar for more than a month. I've been a follower of royal weddings and displays of British pageantry since Charles married Diana. My husband Randy had been transferred to his company's Paris office only days before the royal wedding, and a small boutique hotel just two blocks from the Champs Elysees and Arc de Triomphe had become temporary quarters for our young family while we awaited the availability of the apartment we'd live in for the next year.
I watched the wedding of Charles and Diana on a small, black-and-white television in our hotel room while the French TV anchors commented on every facet of the procession to St. Paul's Cathedral, the ceremony, and the traditional appearance of the wedding couple on the balcony of Buckingham Palace. Although my French was still rusty in those early days after our arrival in France, and I missed much of what was said, the excitement of the people lining the streets and the pageantry accompanying the wedding needed no translation.
The coronation of King Charles promises to be another over-the-top event for royal watchers. For those planning an at-home coronation celebration and watch party, Jewel Tea Cookies are a fitting addition to any menu. Their buttery flavor and melt-in-your-mouth texture, with a glistening center of apricot or raspberry preserves, are an irresistible treat to accompany pots of tea or flutes of Champagne. Yet, these delicate cookies are quick and easy to make, so they're a wonderful dessert year round, and when it comes to gifts from the kitchen, it's hard to beat a plate or tin of these tasty, shortbread-like cookies.
-Christy
Jewel Tea Cookies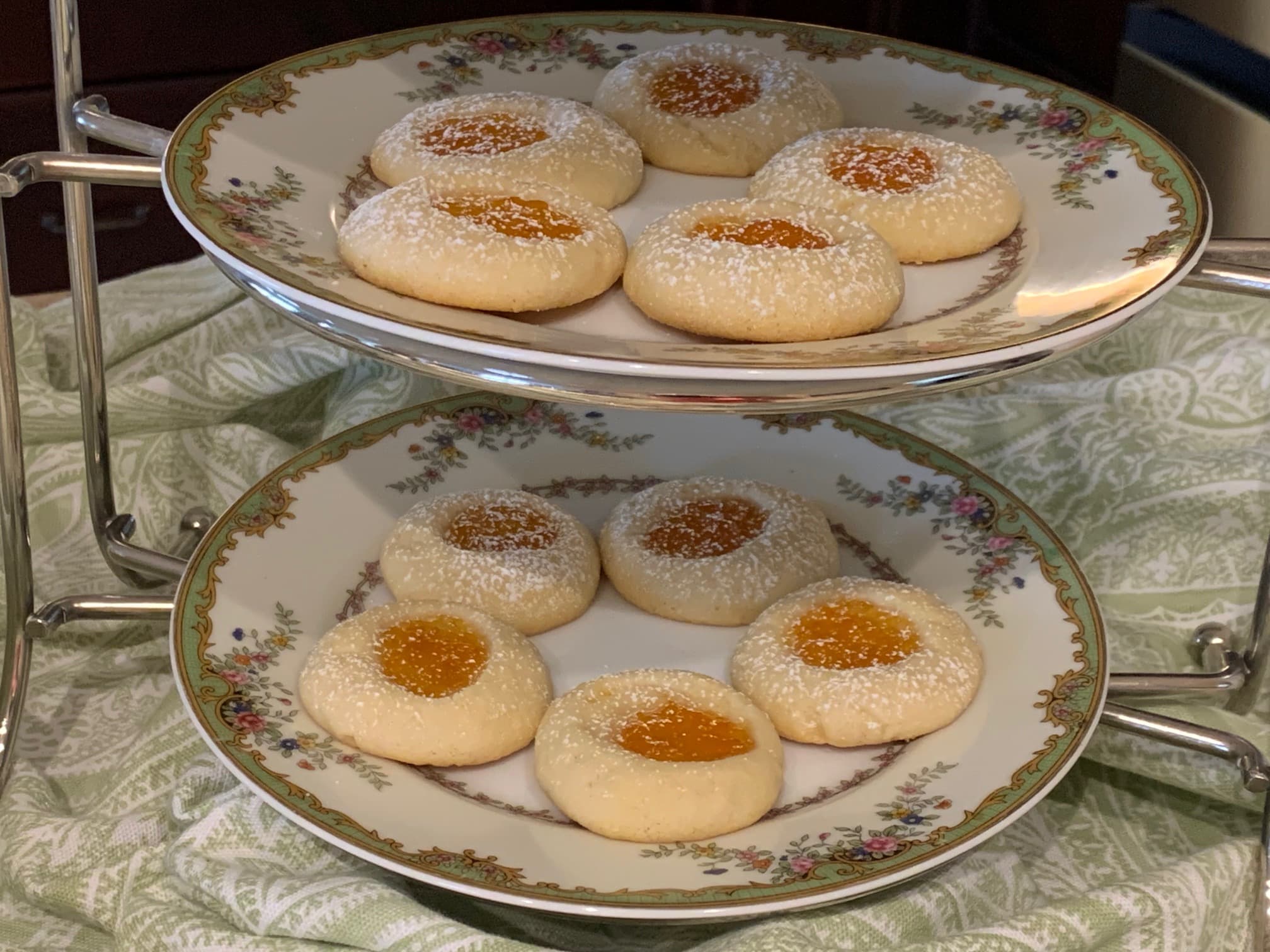 2 cups flour
½ teaspoon baking powder
¼ teaspoon salt
1 cup unsalted butter, softened
2/3 cup sugar
1 egg yolk
1 ¼ teaspoons vanilla
5 ounces apricot, raspberry, or blackberry preserves, preferably seedless
Confectioners' sugar, for garnish
Preheat the oven to 350 degrees. In a small bowl, stir together flour, baking powder, and salt, and set it aside. In the large bowl of an electric mixer, cream butter and sugar until they are light and fluffy, about 8 minutes. Add the egg yolk and vanilla, and beat well.
Add the flour mixture to the butter mixture and, using a large spoon, stir until the ingredients are thoroughly mixed. Using floured hands, form teaspoons of dough into small balls and place them on ungreased cookie sheets. Dip a finger into flour and press into the center of each cookie to form an indentation. Fill each center with ¼ teaspoon of preserves.
Bake the cookies 10-12 minutes, or until the bottom edges are barely brown. Cool them 1 minute, and transfer the cookies to a wire rack to cool completely. When completely cool, use a fine mesh sieve to sift confectioners' sugar over the cookies. The sugar will gradually melt over the preserves, leaving only the edges dusted with sugar.
Yield: 3 ½ dozen 2-inch cookies