By Design: Memorable Autumn Gatherings
Christy Rost |
3 min read
As we gather this fall with family and friends, perhaps for the first time after a long pause, making the occasion special for everyone is worth the extra effort. While I adore casual, last-minute get-togethers, and in fact my husband and I did exactly that last night when we invited neighbors to join us for dessert on the patio at sunset, it can't be overstated the enduring, cozy feeling of a thoughtfully planned gathering during this beautiful autumn season. So, join me as we make this celebration one to remember!
You know those beautiful damask linens hiding out in a cupboard for years? If ever there were a time for them to grace your table, this is it. Just be aware white or ivory linen can yellow over time when not used, so plan an extra couple of days to soak them in a tub full of soapy water, then rinse well and hang them to dry. Those linens will look like new again. (Never dry linen in a dryer.) Or, what about those autumn placemats that captured your attention while strolling through a nearby off-price retailer? I discovered a set of black placemats several years ago adorned with the prettiest pumpkins and squash. They're always lovely at this time of year, whether it's an elegant dinner in the dining room or a casual gathering in the breakfast room.
Nightfall arrives earlier now, so I favor candlelight dinners for unforgettable, enchanted occasions. Guests invariably linger around the table a little longer when surrounded by the glow of flickering candlelight, even if those candles are battery powered. Thanks to an inability to pass up a sale on beautiful dining accessories, especially those found in discount stores and garage sales, I have several sets of china and dinnerware featuring autumn themes. I love mixing these with chargers and heavy, ironstone dinner plates. For centerpieces, I usually select supermarket flowers which I arrange in multiple containers.
It's obvious I revel in setting a gorgeous table and spoiling guests from the moment they arrive. For a truly memorable gathering, there's no better way to make an impression than by beginning dinner with a soup course. Sumptuous, elegant, and supremely flavorful, a small cup, shallow bowl, or cream soup cup served right after guests are seated is an unexpected touch. When the soup can be prepared the prior day and gently reheated, this is an easy menu addition for the host. My recipe for Potato Leek Chowder with Sherry yields 8 to 10 first-course servings and may be prepared one day ahead, then reheated just before guests are seated. Looking to add "wow factor" that will leave a lasting impression? Serve this exquisite, creamy chowder tableside from a roasted pie pumpkin. Happy Thanksgiving!
Potato Leek Chowder with Sherry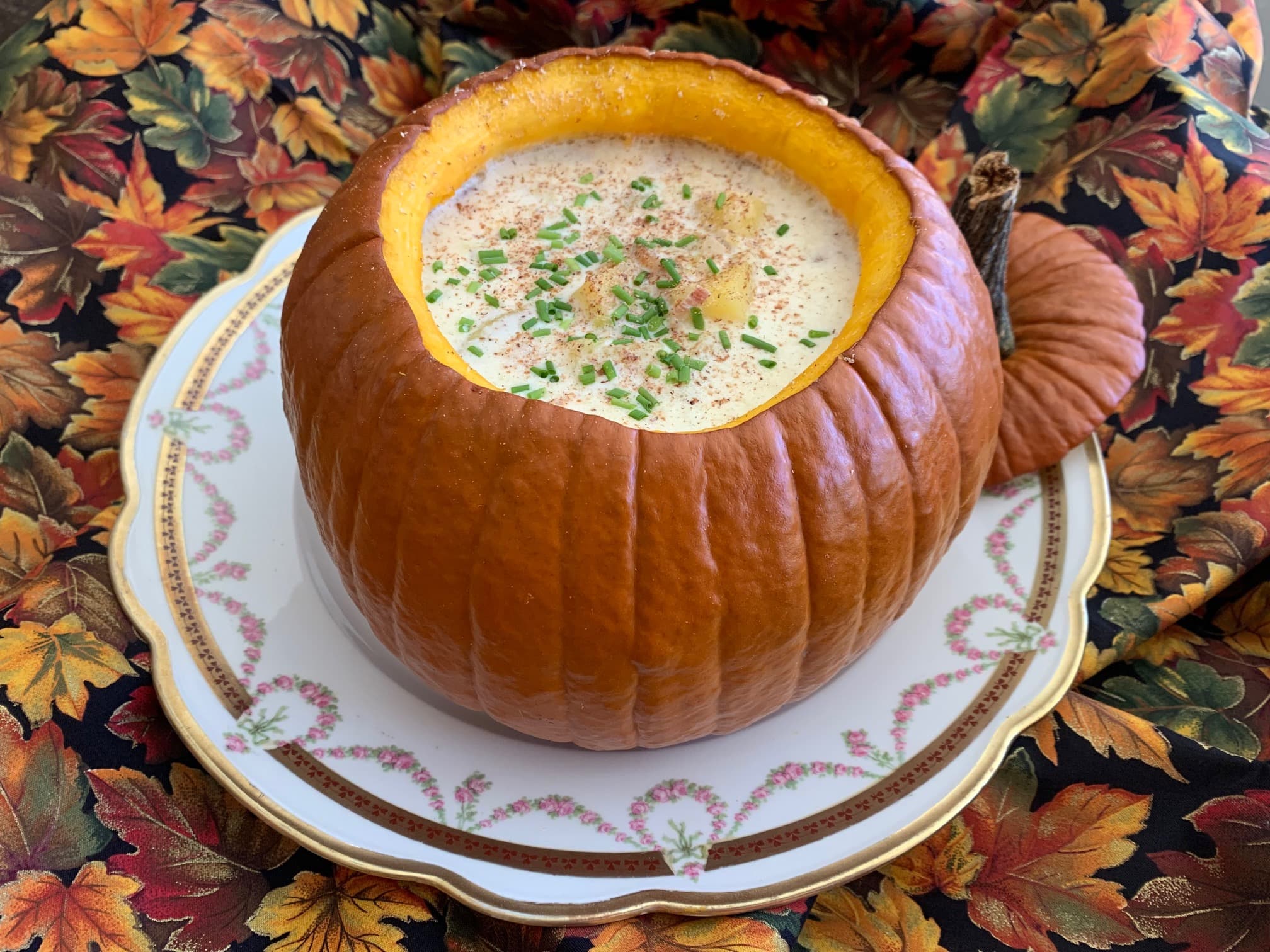 5 medium Yukon Gold potatoes, rinsed and peeled
¾ cup sweet onion, peeled and finely chopped
2 large leeks, white part only
4 slices bacon
4 cups chicken or vegetable stock or broth
1 ½ cups heavy cream
2 to 3 tablespoons dry sherry (optional)
1 teaspoon kosher or sea salt
Dash of white pepper
Freshly grated nutmeg, for garnish
Chopped fresh chives, rinsed, for garnish
1 5-pound pie pumpkin (optional)
Slice potatoes into 1-inch cubes and transfer them to a large saucepan with just enough water to cover them. Cover and cook just until they are knife tender, about 5 to 7 minutes; drain. Slice the root ends and green parts from leeks and discard. Wash them well to remove sandy soil from between layers, chop, and set aside.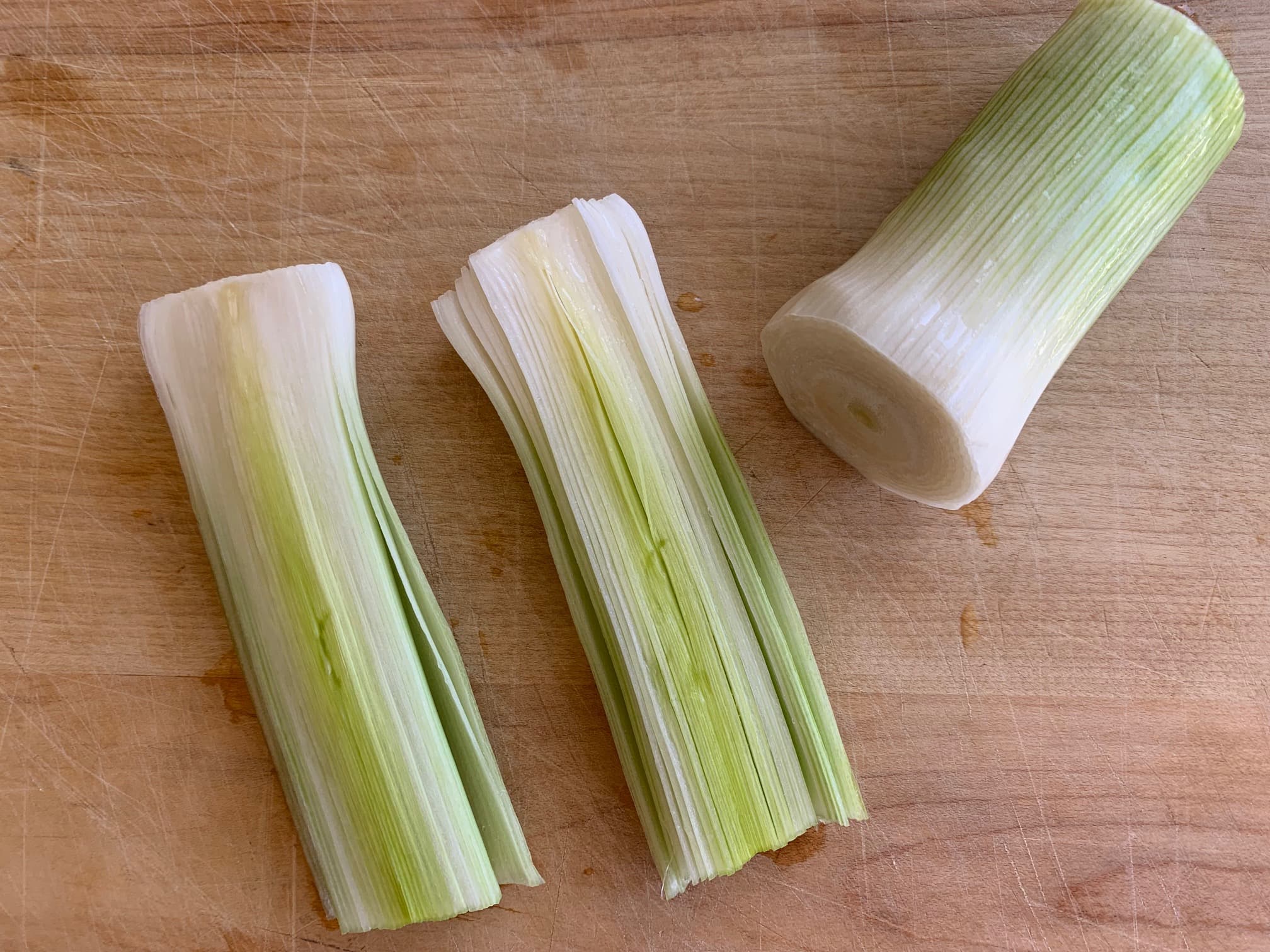 Slice bacon into ½-inch pieces and sauté in a Dutch oven over medium heat until the fat is rendered, about 3 minutes. Stir in onion and leeks, and sauté several minutes until they are soft. Pour in chicken broth, cover, and bring to a low boil. Reduce heat and simmer 5 minutes.
Stir in cream and season with salt and white pepper. Gently stir in potatoes and sherry, cook until the chowder is hot, but do not boil. Ladle chowder into shallow bowls or cream soup cups and garnish with nutmeg and chives.
Yield: 8 to 10 first-course servings
*Chef's Note: Early in the day, rinse the pumpkin, cut a lid in the stem end, and reserve. Scrape out seeds and stringy pulp. Forty minutes before serving, preheat oven to 375 degrees. Place pumpkin cut side up and the lid on a cookie sheet lined with parchment paper. Roast 20-22 minutes until the top edge is browned, but the pumpkin is firm enough to serve as a container. Transfer pumpkin to a serving platter, pour in the chowder, garnish with nutmeg and chives, and replace the lid. Serve.