Move Over Roast Turkey – Here Come The Sides!
Christy Rost |
2 min read
For holidays and cozy gatherings with family and friends, it's the side dishes that often make the meal.  Experienced cooks know when side dishes include make-ahead components, even a large feast becomes doable.   By shifting the focus to luscious side dishes prepared mostly in advance, hosting the Thanksgiving feast or any holiday gathering can flow more smoothly even when roasting a turkey.
Tradition plays a big role in many holiday meal celebrations.  One has only to think about the iconic green bean casserole to comprehend tradition's importance.  Created in 1955 by Dorcas Reilly at the Campbell Soup Company, this vegetable side dish has been a staple of Thanksgiving celebrations for generations.  Still, there's always room for new traditions when tweaks to the menu result in overwhelming approval from guests.  A new side dish or two adds freshness to an otherwise anticipated menu and can enhance the celebration.
Over the years, I've adapted my Thanksgiving menu to reduce the stress of last-minute recipe preparation without sacrificing flavors achieved by hot-from-the-oven serving.  My cornbread dressing is a prime example.  It's completely assembled one day in advance, chilled, then baked one hour before dinner.  Some years, I even assemble and freeze it weeks in advance – then thaw and bake.  Nothing could be easier!
Roasted Acorn Squash with Spiced Apple Compote turns make-ahead preparation into an art form.  Each guest is served an individual, small roasted acorn squash filled with a fragrant, cinnamon-and-spice apple fruit compote.  The fruit filling goes together quickly and is prepared one or two days in advance.  While the rest of the meal cooks, I hollow out the squash, pop it in the oven, reheat the compote, and fill each squash just before serving.  It's easy, impressive, and deliciously memorable for guests.  The recipe airs this month shortly before Thanksgiving on At Home with Christy Rost, so be sure to check my social media platforms for a link to the "Side Dishes" episode.  Happy Thanksgiving!
Roasted Acorn Squash with Spiced Apple Compote
Source: At Home with Christy Rost, Season 2, Episode 211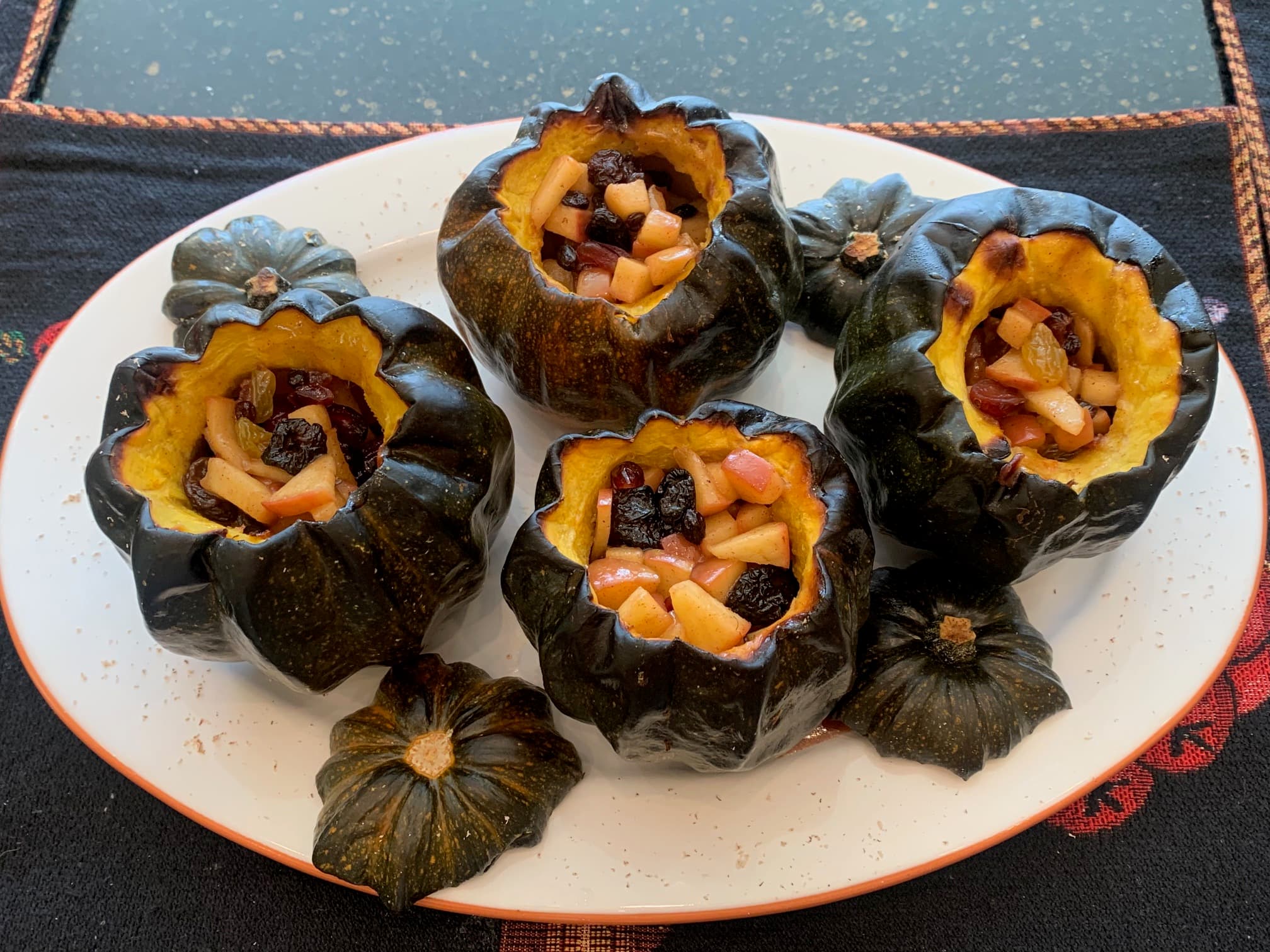 2 to 4 acorn squash, rinsed
2 tablespoons unsalted butter
1 large Cosmic Crisp apple, rinsed, cored, and chopped
¼ cup dried cranberries
¼ cup dried Rainier cherries
2 tablespoons dried currants
2 tablespoons golden raisins
1 teaspoon cornstarch
½ cup apple cider or juice
1 tablespoon brown sugar, packed
1 teaspoon cinnamon
¼ teaspoon freshly grated nutmeg
Preheat the oven to 400 degrees. Slice the stem end from the acorn squash, scoop out the seeds, and cut a thin slice from the bottom of each squash so they stand upright. Stand squash upright on a baking sheet and roast 40-50 minutes or until the pulp is tender.
While the squash is roasting, melt butter in a medium saucepan over medium-low heat. Add apple and saute 5 minutes until it begins to soften. Stir in cranberries, cherries, currants, and golden raisins. In a small bowl, whisk apple cider into cornstarch to form a smooth slurry. Stir the slurry into the apple mixture, along with brown sugar, cinnamon, and nutmeg, stirring occasionally until the apples are soft and the compote has thickened.
Transfer roasted squash to a serving platter and fill the centers with apple compote. Serve immediately.
Yield: 4 to 8 servings