Side Dishes – The Stars Of Summer Gatherings
Christy Rost |
2 min read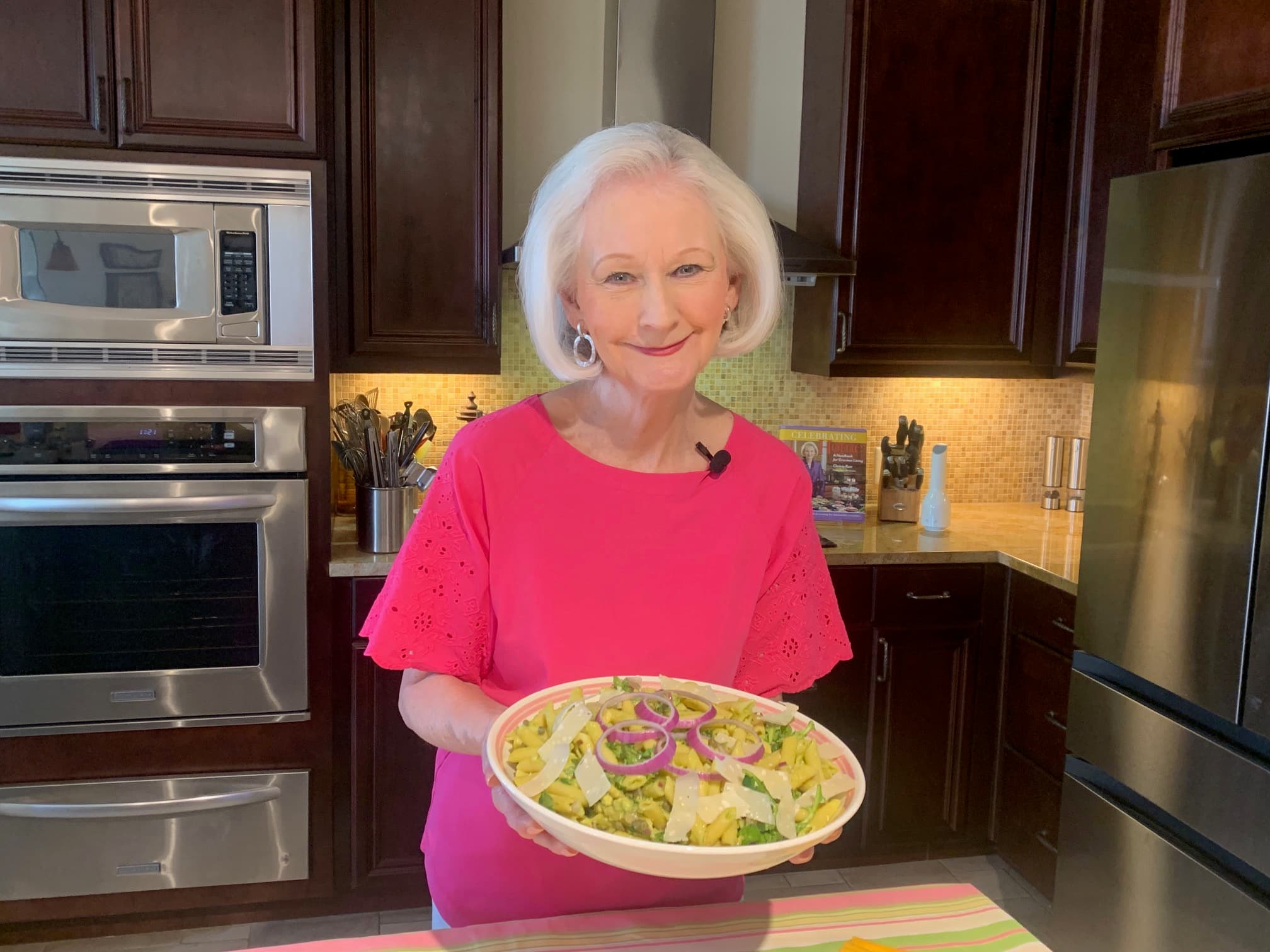 Have you ever attended a summer barbecue or backyard picnic and come away raving about the mouthwatering display of side dishes? It's true – from Memorial Day to Labor Day, side dishes are often the stars of summer gatherings. When guests bring their favorite side dish, their contributions can lead to the most amazing array of luscious flavors and oftentimes wonderful stories behind the recipes.
I have to go way back to 2009 to share the inspiration for today's side dish recipe. I hosted my first television cooking series Just Like Home in Fort Worth for twelve years, though it eventually became syndicated in several Midwest states. As it still is, my focus was home cooking and entertaining. I frequently invited guest chefs or wine experts to join me on the show, and one of the guests was Dallas-area chef Mick Weisberg. He showed my viewers that stirring ripe avocado into pasta yields a creamy sauce. The memory of that ah-ha moment has remained with me all these years.
My Creamy Avocado Pasta Salad combines flavorful Italian penne pasta with garlic-infused olive oil, ripe avocado, crunchy red onion, salty capers, and peppery baby arugula. Each ingredient contributes notable flavor and texture to this simple dish, plus the arugula is packed with calcium, fiber, and vitamins A, C, K, and folate (a B vitamin). One hour before cooking the penne, I chop two large cloves of garlic and stir them into olive oil so the garlic permeates the oil and ultimately the drained penne with its flavor. Then, when the soft avocado is gently stirred into the hot pasta, the avocado almost "melts" and becomes creamy like a sauce.
One other noticeable addition is rather than using black pepper, I season the pasta salad with pepper medley – a blend of black, white, pink, and green peppercorns. Each color has a distinct flavor that enhances this, and many side dishes. You'll find pepper medley in the spice aisle of most grocery stores.
I look forward to sharing this delectable, easy pasta side dish with friends this summer and hope you enjoy it, too!
-Christy
Creamy Avocado Pasta Salad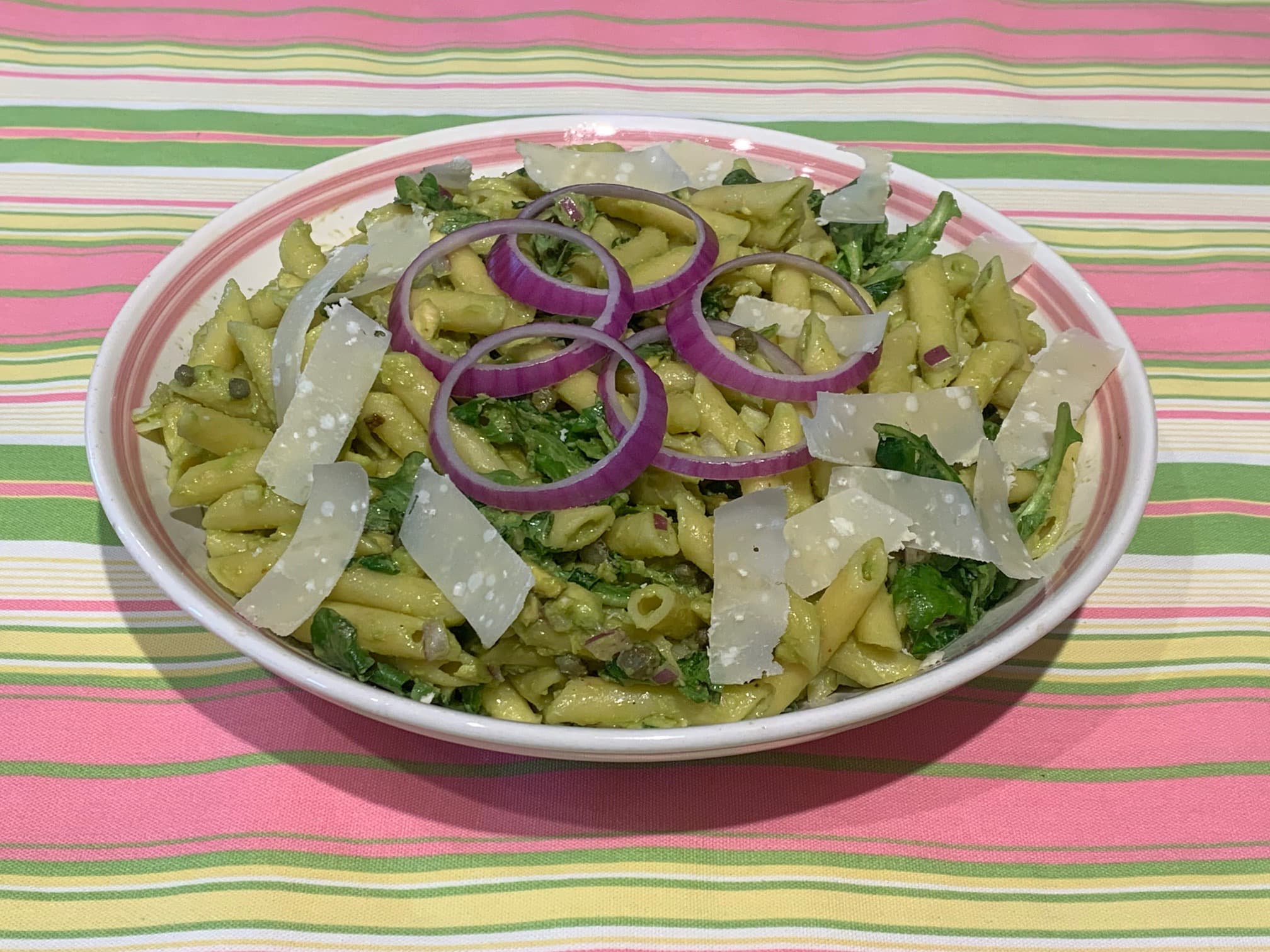 1 pound penne pasta, preferably imported Italian
3 tablespoons olive oil
2 large cloves garlic, peeled and minced
2 large ripe avocados, very soft
¼ cup red onion, peeled and diced
2 tablespoons capers, drained, unrinsed
3 cups baby arugula, rinsed and spun dry
Parmigiano Reggiano, for garnish
One hour before cooking the pasta, stir minced garlic into the oil and set it aside to allow flavors to meld. Prepare pasta in boiling, salted water according to package directions. Drain and transfer to a large bowl. Immediately add the oil and garlic to the hot pasta and stir gently.
Slice peeled avocado into small cubes and gently stir it into the hot pasta with a rubber spatula until it is completely coated. Small bits of avocado may remain. Add onion, capers, and arugula, and stir gently. The arugula will wilt slightly.
Transfer the pasta to a large serving bowl and garnish with red onion rings and shaved Parmigiano Reggiano. Pasta is best served at room temperature.
Yield: 8-10 servings