Acorn Squash Pie
| Christy Rost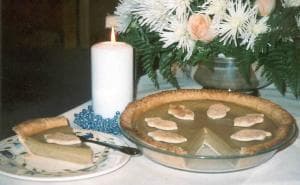 Pastry
1 1/4 cups flour
1/4 cup sifted cake flour
1 tablespoon sugar
1/2 teaspoon salt
5 tablespoons cold unsalted butter
2 tablespoons shortening
3 to 4 tablespoons ice water
Place the flours, sugar, and salt in the bowl of a food processor; pulse several times to mix. Slice the butter into 5 pieces and add it to the flour mixture along with the shortening; pulse until the butter is pea-size.
Pour in 3 tablespoons of the ice water and process at low speed until the pastry forms crumbs; adding additional ice water if the mixture appears dry. Process on low until the pastry forms a ball. Switch the processor off and unplug it. Remove the pastry, wrap it in plastic wrap, and chill it at least 30 minutes or until it is cold.
Roll the pastry out on a floured pastry cloth, trim the edges, fold it in half, and transfer it to a 10-inch pie plate. Unfold the pastry and fit it into the pie plate. Trim the edges and crimp; set aside.
Filling
1 very large acorn squash, halved, seeded, and steamed until tender
1/2 cup granulated sugar
1/2 cup brown sugar, packed
1 teaspoon salt
1 teaspoon cinnamon
1/2 teaspoon freshly grated nutmeg
1/2 teaspoon ground ginger
1/4 teaspoon allspice
3 eggs
1 1/2 cups half-and-half
Preheat the oven to 425 degrees. Scoop the cooked squash from the peel and transfer it to the bowl of a food processor. Process until the squash is smooth. Transfer the squash to a large mixing bowl, along with the granulated sugar, brown sugar, salt, cinnamon, nutmeg, ginger, and allspice. Beat with an electric mixer on medium speed just until the ingredients are combined.
Add the eggs and beat with an electric mixer until it is well mixed. Gently whisk in the half-and-half until the mixture is smooth. Strain the filling into a prepared pie crust and bake it in a preheated oven 15 minutes; then reduce the heat to 350 degrees and bake it an additional 40 to 45 minutes, or until the filling is set.
Remove the pie from the oven and set it aside on a rack to cool. Chill any leftovers.
Recipe makes 1 10-inch pie.