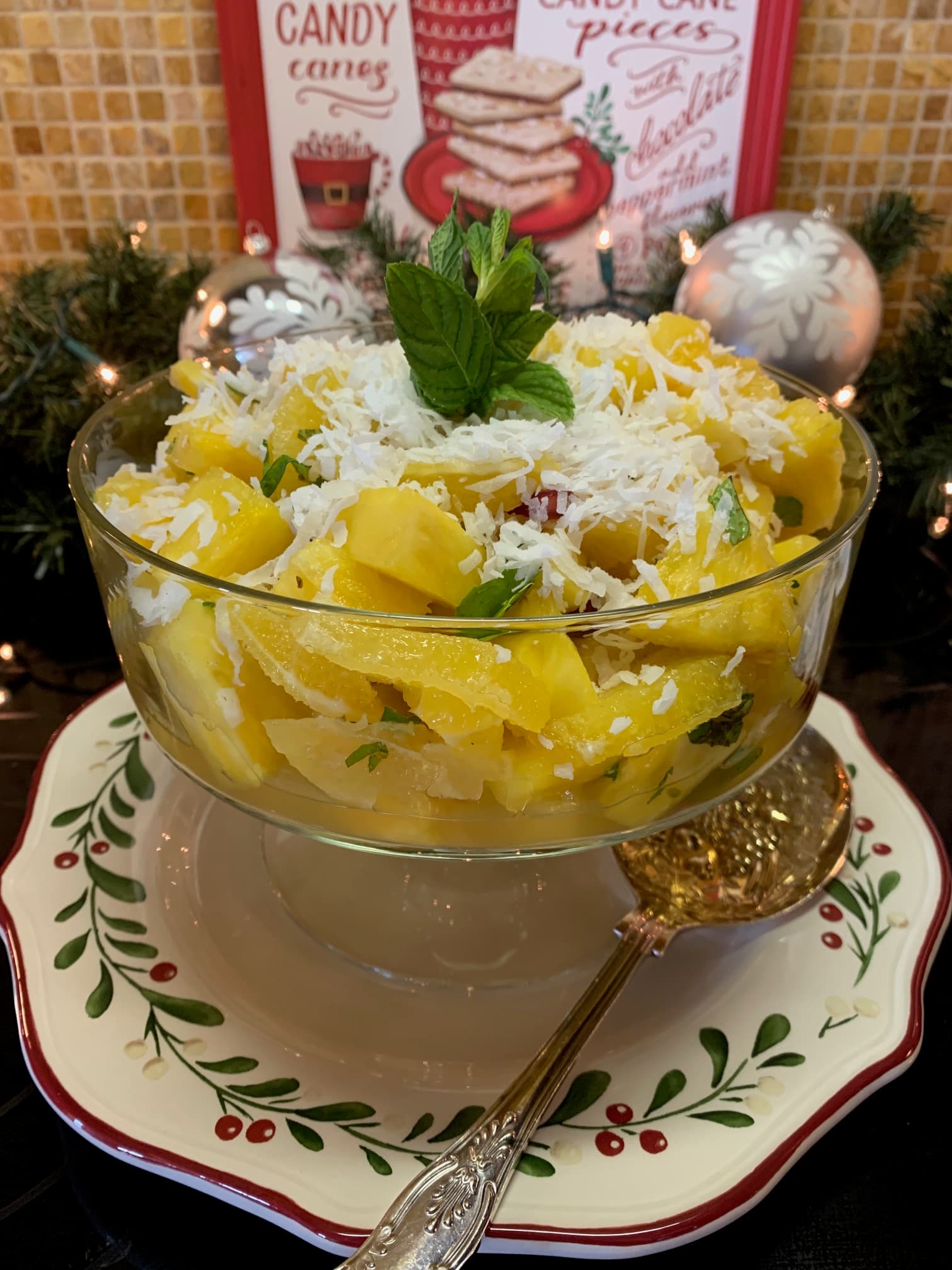 Many ambrosia recipes fold whipped cream into the dish, but in my version, fresh sweet oranges and pineapple are the stars, accented with pomegranate seeds, fresh mint, and sweetened flaked coconut.  Serve this beautiful, refreshing dish as a Holiday salad or dessert.
1 ripe pineapple, rinsed, or 2-3 large cans pineapple chunks, drained
3 to 4 oranges, rinsed, peeled, and sliced
1 orange, juiced
1/3 cup fresh pomegranate arils (red seeds)
1 sprig fresh mint, rinsed, dried, and chopped
½ cup flaked or shredded sweetened coconut
1 sprig fresh mint, rinsed and dried, for garnish
Place the pineapple on a cutting board and use a large, sharp knife to slice off the crown and bottom; discard.  Stand the pineapple upright, hold it firmly, and slice from top to bottom to remove the outer peel.  Rotate the pineapple and repeat this process until all the skin is removed.   Slice the pineapple in half lengthwise; then slice each half lengthwise again.  You should now have 4 quarters.  Stand each quarter upright, slice off the tough inner core, and discard.  Cut each quarter into bitesize pieces and transfer them to a large serving bowl.
Add orange pieces, pomegranate arils, chopped mint, the juice of one orange, and stir gently to mix.  Cover and chill.  Just before serving, garnish the ambrosia with flaked coconut and a sprig of fresh mint.
Yield:  8 to 10 servings