Angel Food Cake with Sauteed Bananas
| Christy Rost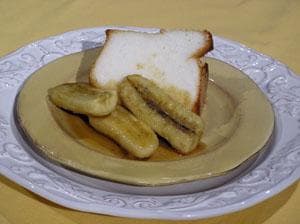 3 large bananas
3 tablespoons butter
1/3 cup packed brown sugar
2 tablespoons orange juice
2 tablespoons light or dark rum
2 tablespoons Cointreau
1 prepared angel food cake, sliced
Peel bananas and slice in thirds horizontally. Cut each third lengthwise and set aside.
Over medium-low heat, melt butter in a large skillet. Add brown sugar and stir to melt, about 2 minutes. Add bananas; cook 2 minutes until tender, turning once. Stir in orange juice, rum, and Cointreau; cook 1 minute more.
Arrange slices of angel food cake on serving plates and garnish with sauteed bananas.
Recipe serves 6.