Applesauce Harvest Cake With Caramel Icing
| Christy Rost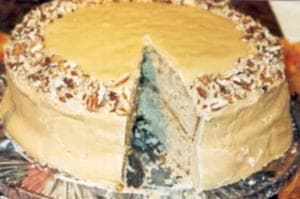 1 cup unsalted butter, softened
1 cup granulated sugar
3/4 cup brown sugar, packed
2 eggs
2 3/4 cups flour
2 teaspoons baking powder
3/4 teaspoon salt
1/2 teaspoon baking soda
1 1/2 teaspoons cinnamon
1 teaspoon freshly grated nutmeg
1/4 teaspoon ground cloves
1 cup natural applesauce (no sugar added)
1/4 cup milk
Preheat the oven to 350 degrees. In the large bowl of an electric mixer, cream butter and sugars until mixture is light and fluffy, about 5 minutes. Add eggs and beat until thoroughly mixed; set aside.
In a medium bowl, stir together flour, baking powder, salt, soda, cinnamon, nutmeg, and cloves. Gradually add the flour mixture to the creamed mixture, alternating with applesauce and milk; the batter will be thick.
Line two 9-inch cake pans with parchment and spray with nonstick cooking spray. Pour batter evenly into the pans and bake in a preheated oven 35 to 40 minutes, or until a cake tester inserted into the center comes out clean. Remove the cakes from the oven, cool 10 minutes, and turn them out on a wire rack to cool completely. When the cakes are cool, frost with Caramel Icing.
Caramel Icing
3/4 cup unsalted butter
1 cup dark brown sugar, packed
1 14-ounce can sweetened condensed milk
dash of salt
7 cups confectioners sugar
1 1/2 teaspoons vanilla
In a medium saucepan over medium-low heat, melt butter with brown sugar and stir in the sweetened condensed milk and salt. Remove it from the heat and set aside 5 minutes to cool.
Pour the mixture into a large, heat-proof bowl and gradually beat in confectioners sugar with an electric mixer; stir in vanilla. Set the icing aside 20 to 30 minutes until it is cool and thick. Stir it with a spoon until smooth and spread on the cake.
Recipe makes one 9-inch 2-layer cake.