Basmati Rice With Saffron And Rose Petals
| Raghavan Iyer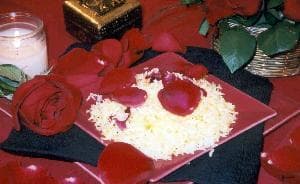 THE TUMERIC TRAIL: Recipes and Memories from an Indian Childhood, by Raghavan Iyer. (St. Martin's Press, 2002)_
1 cup uncooked basmati or long-grain rice
2 tablespoons Ghee or vegetable oil
2 black, green or white cardamom pods
1/4 teaspoon saffron threads
1 1/4 cups cold water
1/4 cup heavy (whipping) cream or half-and-half
2 teaspoons sugar
1 teaspoon salt
25-30 rose petals
In small bowl place rice and add enough water to cover by about 1-inch. Gently with fingertips swish grains in bowl until water becomes cloudy; drain. Repeat 3 or 4 times until water remains almost clear. Cover with cold water by about 1-inch and soak 20 to 30 minutes; drain.
In 2-quart saucepan heat oil over medium-high heat; add rice, cardamom, and saffron. Gently stir-fry rice 1 to 2 minutes to coat with ghee (or vegetable oil).
Add remaining ingredients, except rose petals, and heat to boil; cook uncovered stirring once or twice, 4 to 5 minutes or until almost all water evaporates. Lower heat to lowest possible setting, sprinkle rose petals on top, reserving about 5 petals for garnishing, and cook covered 5 minutes. Turn off burner and let pan sit undisturbed additional 8 to 10 minutes.
Remove lid and fluff rice with fork or spoon to release steam; serve sprinkled with remaining rose petals.