Belgian Endive And Goat Cheese With Candied Pecans
| Christy Rost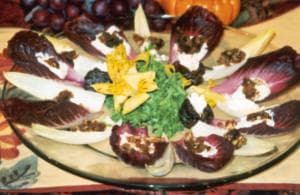 2 tablespoons unsalted butter
1/3 cup brown sugar, packed
1/2 cup chopped pecans
1/2 cup chopped Medjool dates, about 3 to 4 whole dates
4 ounces goat cheese, softened
3 ounces Neufchâtel cheese, softened
1 large or 2 small heads Belgian endive, rinsed
Melt butter in a large skillet over medium-low heat. Stir in brown sugar and cook 1 to 2 minutes until it becomes frothy. Add pecans and dates and cook 2 minutes more, stirring frequently. Transfer the candied pecans to a large plate and chill 30 minutes. When it has cooled, break the pecan topping apart with your hands and set aside.
In a small bowl, stir together goat cheese and Neufchâtel cheese until it is smooth, and set it aside.
To serve, trim the end from the endive and carefully separate the leaves. Garnish each leaf with a rounded teaspoon of goat cheese filling. Top with candied pecans and arrange the leaves attractively on a platter.
Recipe makes approximately 16 hors d'oeuvres.