Belgian Endive And Pear Salad With Roquefort Dressing
| Christy Rost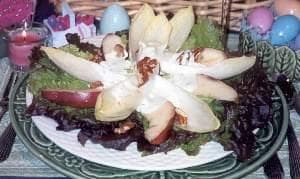 2 belgian endive
1 head red leaf lettuce
2 ripe red Bartlett pears
2 green onions, sliced, green part only
1/4 cup coarsely chopped pecans or walnuts
Roquefort Dressing
4 ounces crumbled Roquefort cheese
1/2 cup mayonnaise
1/4 cup milk
1/8 teaspoon white wine Worcestershire
freshly ground black pepper
Arrange leaf lettuce and endive on 4 salad plates. Core and slice pears; arrange pears in between endive. Sprinkle with green onions and nuts.
In a medium bowl, crumble Roquefort cheese with a fork. Stir in mayonnaise, buttermilk, Worcestershire and pepper until mixture is creamy with small lumps of cheese. Spoon over salads and serve.
Recipe makes 4 salads.