Besitos Calientes "Hot Little Kisses"
| Christy Rost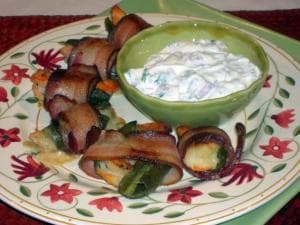 8 26-30 shrimp, peeled and deveined
8 canned pickled jalapeños, seeded and halved
1/4 pound pepperjack cheese, cut into small rectangles
4 slices applewood smoked bacon, cut in half
1/2 cup sour cream
1/2 bunch cilantro, chopped fine
juice of 1 lemon
1/8 cup red onion, small dice
salt and pepper
wooden skewers
Stuff jalapeños with pepperjack cheese and shrimp. Wrap each with ½ slice of bacon and thread onto a wooden skewer. Grill on a BBQ or sauté in a pan until the bacon is halfway done. Transfer to a 350 degree oven and bake until the shrimp and bacon are cooked, about 5 to 10 minutes.
Combine sour cream, cilantro, lime juice, and red onion in a bowl. Season with salt and pepper. Pour sauce into a ramekin and place in the middle of a serving platter. Arrange cooked jalapeños around the ramekin. Garnish with a sprig of cilantro.
Recipe serves 4.