Black Bean Burritos with Picante Sauce
| Christy Rost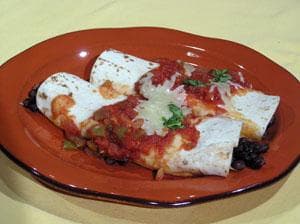 1 package flour tortillas
1 15-ounce can black beans, rinsed and drained
1/3 cup chopped onion
1 1/2 cups shredded cheddar or Monterrey Jack cheese, divided use
1 1/4 cups prepared picante sauce or salsa
1 jalepeño, sliced
1/4 cup sliced black olives
Preheat the oven to 350 degrees. Spray a large casserole dish with nonstick vegetable spray and set it aside.
Spoon some of the black beans into the center of a flour tortilla and sprinkle it with chopped onion and some of the shredded cheese. Roll up the tortilla and transfer it to the casserole dish with the seam facing down. Repeat with remaining tortillas.
Pour the picante sauce over the burritos and top with remaining cheese, sliced jalapeño, and black olives. Cover the dish with foil and bake in a preheated oven 30 minutes, or until the burritos are hot and the cheese has melted.
Recipe makes 4 large burritos.