Black Bean Salsa
| Christy Rost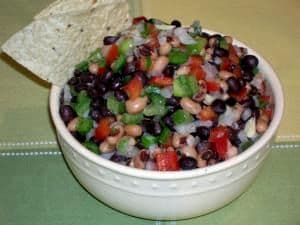 1 15-ounce can black beans, drained and rinsed
1 15.5-ounce can blackeye peas, drained and rinsed
1/2 cup diced OSO Sweet® onion
1/2 cup chopped green bell pepper
1/2 cup chopped red bell pepper
3 cloves garlic, minced
1 1/2 tablespoons chopped fresh cilantro
1 tablespoon seeded and diced jalapeño
tortilla chips
Lime Vinaigrette
1/3 cup canola oil
1 tablespoon freshly squeezed lime juice
1/2 teaspoon coarse salt
freshly ground black pepper, to taste
In a large bowl, stir together black beans, blackeye peas, sweet onion, bell peppers, garlic, cilantro, and jalapeño; set aside.
In a small bowl, whisk together oil, lime juice, coarse salt, and black pepper. Pour the vinaigrette over the bean mixture and stir gently to mix. Cover and chill 30 minutes or up to 2 days. Serve salsa with tortilla chips.
Recipe makes 4 cups.