Blue Island Crush
| Christy Rost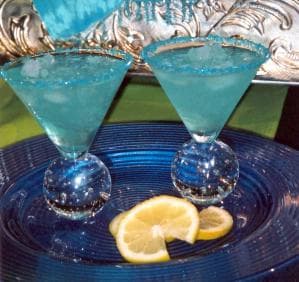 1 cup ice cubes
3 ounces lemonade
3 ounces blue raspberry mix
2 ounces white rum
1 ounce cognac
1 ounce simple syrup
1 lemon wedge, for garnish
blue sparkling sugar, for garnish
crushed ice
Fill a cocktail shaker one-half full with ice cubes. Pour in lemonade, blue raspberry mix, rum, cognac, and simple syrup. Place the lid on the cocktail shaker and shake vigorously until the mixture is well chilled; set aside.
Rub the rims of cocktail glasses with the lemon wedge and dip them in a saucer of blue sparkling sugar. Pour crushed ice into the cocktail glasses, shake the cocktail shaker briefly, and fill the glasses.
Recipe makes 2 to 3 cocktails.