Blue Raspberry Mock-tini
| Christy Rost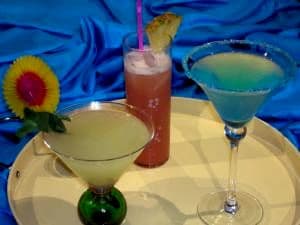 2 ounces lemonade
1 1/2 ounces Rose's® blue raspberry mix
1/2 ounce simple syrup
2 ounces seltzer water
1 wedge fresh lemon
Sparkling sugar, to garnish rim of glass
Rub a lemon wedge around the rim of a martini glass. Pour sparkling sugar onto a medium plate and shake to distribute it around the plate. Dip the rim of the glass into the sugar.
Fill a cocktail shaker ½ full with ice. Pour in lemonade, blue raspberry mix, and simple syrup. Cover and shake until chilled and well blended. Add seltzer water, shake gently, and strain into a prepared glass.
Recipe makes 1 cocktail.