Boneless Stuffed Leg of Lamb with Mint Au Jus
| Christy Rost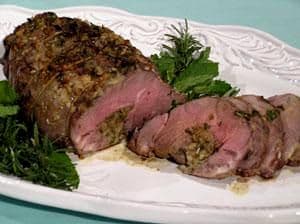 1 5-pound leg of lamb, leg bone removed by your butcher
2 slices wheat bread
4 cloves garlic, minced
3 tablespoons minced fresh rosemary
1 tablespoon minced fresh mint
3/4 teaspoon coarse salt, plus additional for seasoning the meat
Freshly ground black pepper
1 egg
3/4 cup beef broth
2 tablespoons fresh mint, chopped
Preheat the oven to 350 degrees. Open the pocket where the leg bone was removed and season the meat with coarse salt and freshly ground pepper.
Tear bread coarsely and transfer it to the bowl of a food processor. Pulse until it forms coarse crumbs and place them in a medium bowl. Add minced garlic, rosemary, mint, coarse salt, and freshly ground pepper; toss well to mix. Add egg and stir just until the mixture is moistened.
Stuff the meat cavity loosely with the stuffing and tie the roast securely with string to form a rounded appearance. Brush the meat lightly with olive oil and season it with coarse salt, pepper, and any remaining minced garlic and rosemary. Transfer it to a roasting pan and roast in a preheated oven 1 to 1 ½ hours, or until the inside of the roast is pink and juicy.
Transfer the meat to a serving platter and cover it to keep it warm. Over medium-low heat, deglaze the pan with ¾ cup beef broth, scraping up any brown bits stuck to the bottom of the pan; season with salt and pepper to taste.
To serve, carve the lamb into ½-inch thick slices and serve with Mint Au Jus.
Recipe serves 8.