Braised Herbed Pork Loin
| Christy Rost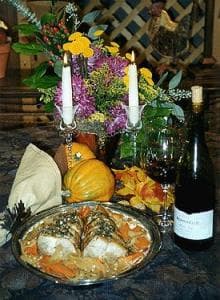 1 2 1/2 pound boneless pork loin
3/4 teaspoon salt
1/2 teaspoon freshly ground black pepper
3 tablespoons olive oil
1 medium onion, sliced
2 large carrots, cut into 2-inch pieces
3 cloves garlic, minced
3/4 cup white wine
3/4 cup beef broth
2 bay leaves
1 tablespoon fresh rosemary, finely chopped
1 tablespoon fresh sage, finely chopped
Tie pork loin with kitchen twine and sprinkle with salt and pepper. Preheat large skillet over medium heat; add 2 tablespoons of the oil. Brown pork roast on all sides, approximately 5 minutes total. Transfer pork loin to a roasting pan and cover to keep warm.
Pour remaining oil into skillet; add onions and carrots. Saute several minutes until onions are translucent. Add garlic and saute 1 additional minute. Deglaze pan with wine and broth; add bay leaves. Raise heat to high and boil mixture 5-10 minutes, stirring occasionally, until broth is reduced by half.
Sprinkle top of pork with chopped herbs. Spoon sauted vegetables and broth around pork. Cover roasting pan tightly with foil.
Braise pork roast in a 350-degree oven 40-45 minutes until tender. Remove roast from oven and set aside 10 minutes. Slice pork and arrange meat on serving platter. Spoon carrots and onions around meat and serve.
Recipe serves 6-8.