Breaded Pork Cutlet with Creamy Horseradish Sauce
| Christy Rost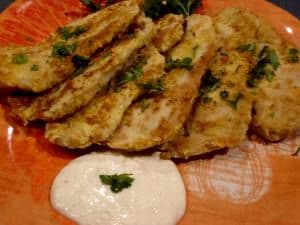 1/4 cup low-fat sour cream
1 tablespoon mayonnaise
2 to 3 teaspoons prepared horseradish
1/2 teaspoon plus a dash of coarse salt, divided
1/2 cup flour
1/4 cup cornmeal
1/4 teaspoon garlic powder
1/4 teaspoon onion powder
Freshly ground black pepper, to taste
1 egg
1 1/4 pounds thin-sliced pork loin sirloin boneless chops
2 to 3 tablespoons olive oil
In a small bowl, stir together sour cream, mayonnaise, horseradish, and a dash of salt until they are well blended. Spoon into a serving bowl and set aside. Leftover sauce may be covered and chilled up to 3 days.
In a large plastic zipper bag, place flour, cornmeal, the remaining ½ teaspoon salt, garlic powder, onion powder, and pepper. Seal the bag and shake well to mix.
Preheat a large skillet over medium heat. In a small bowl, whip the egg with a fork until it is light. Dip the pork cutlets into the egg and drop them into the bag of flour mixture, one or two at a time, seal the bag, and shake until the cutlets are well coated. If desired, dip the coated cutlets into the egg and coat them in the flour mixture a second time.
Add 2 tablespoons of the olive oil to the skillet, swirl to coat the bottom of the pan, and place the cutlets in the pan. Sauté them 4 to 5 minutes until the breading is golden brown, turn them over, and sauté 4 to 5 minutes more, or until the meat is done. If the cutlets start to stick to the bottom of the skillet, add the remaining olive oil. Transfer the cutlets to a platter and serve with horseradish sauce.
Recipe makes 4 servings.