Buttermilk Southern Fried Chicken
| Christy Rost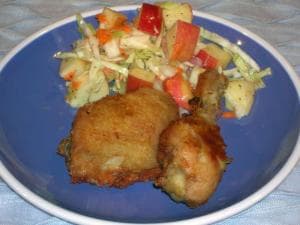 1 whole chicken, cut into pieces
1 cup canola oil
2 cups flour
1 1/2 teaspoons coarse salt
3/4 teaspoon paprika
1/2 teaspoon black pepper
1 cup buttermilk
Rinse the chicken and pat dry with paper towels; set aside. Pour canola oil into a large cast-iron skillet or Dutch oven with lid and preheat over medium heat.
In a large plastic zipper bag, combine flour, salt, paprika, and black pepper; mix well. Pour buttermilk into a large bowl and soak 2 pieces of chicken in the buttermilk. Drop them into the flour mixture, seal, and shake well until they are coated.
Add the chicken pieces to the hot oil, skin side down. Repeat process with remaining chicken. Cover and cook 5 minutes, reducing heat if chicken browns too quickly. Turn chicken pieces, cover, and cook 5 minutes more. Turn chicken pieces again, cover, and cook 4 minutes. Turn chicken pieces and cook uncovered 5 to 8 minutes more until chicken is tender and fully cooked.
Drain chicken pieces on a paper towel-lined platter.
Recipe serves 4.