Caesar Salad
| Christy Rost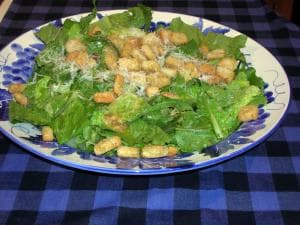 2 large cloves garlic
2 anchovy fillets (optional)
2 egg yolks, coddled
2 tablespoons freshly squeezed lemon juice
1 teaspoon Dijon mustard
3 drops Worcestershire
Freshly ground black pepper
1/4 cup freshly grated Parmesan cheese
2/3 cup virgin olive oil
1 head romaine lettuce
2 to 3 tablespoons Parmesan cheese for garnish
1 cup croutons
In a large serving bowl, smash garlic and anchovy fillets with a fork. Mix in coddled egg yolks (directions follow), lemon juice, mustard, Worcestershire, black pepper and Parmesan.
To coddle egg yolks, separate whites from yolks, reserving egg whites for another use. Bring a small saucepan of water to a boil. Carefully place egg yolks in a strainer; lower into the boiling water. Cook egg yolks 30 seconds; remove and drain. Add yolks to dressing ingredients.
Slowly add olive oil to salad dressing while whisking with a fork. Add lettuce and toss well in dressing. Garnish with additional Parmesan and croutons.