Cast Iron Panfried New York Strip Steaks With Sauteed Mushrooms
| Christy Rost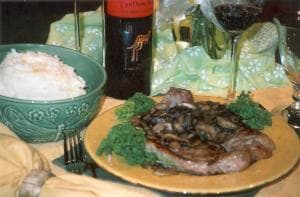 2 1-inch thick New York strip steaks
2 tablespoons clarified butter
1/2 teaspoon coarse salt for pan, plus 2 teaspoon coarse salt for steaks
1/4 teaspoon freshly ground black pepper
1/2 pound mushrooms, sliced
2 tablespoons butter
2 tablespoon olive oil
1 tablespoon Marsala wine
Preheat cast iron skillet over medium heat until hot. Season steaks with salt and pepper.
To clarify butter, microwave in a small bowl 2 minutes at 50% power until butter has melted. Spoon white solids from top of melted butter and discard. Spoon 2 teaspoons clarified butter into hot skillet; sprinkle with coarse salt.
Immediately place the strip steaks into the skillet. Cook two minutes until brown; turn and cook 2 minutes. Add one to two additional teaspoons clarified butter to skillet. Turn steaks; cook 2 minutes more on each side for a total of 8 minutes cooking time for medium-rare. Check steaks for desired degree of doneness.
While the steaks are cooking, preheat a medium skillet over medium-low heat. Add the butter and olive oil, swirling to coat the bottom of the pan. Add the mushrooms and stir to coat them with the butter mixture. SautÈ them 4 to 5 minutes until they are tender, then stir in the Marsala wine and cook them until the wine has been absorbed.
When the steaks are done, top each steak with half of the mushrooms and serve.
Recipe serves 2 to 4.