Chateaubriand With Bearnaise Sauce
| Christy Rost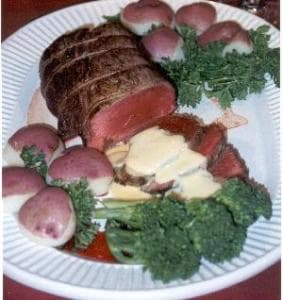 1 1/2 pounds beef tenderloin, tied with kitchen string
salt and freshly ground black pepper to taste
2 tablespoons olive oil
Bernaise Sauce
Preheat oven to 450 degrees. Season tenderloin with salt and pepper. Heat a large skillet over medium heat; add oil to skillet.
Carefully place tenderloin in hot skillet. Brown meat on all sides, approximately 5 minutes total. Transfer tenderloin to a baking dish and roast meat, uncovered, for 10-15 minutes, depending on thickness and desired degree of doneness. Remove meat from oven, cover with foil, and set aside while making sauce.
Bernaise Sauce
1 large shallot, diced
2 sprigs chopped fresh tarragon with stems
1 teaspoon cracked black peppercorns
1/2 cup white wine vinegar
1/4 cup dry white wine
2 egg yolks
1 tablespoon water
1 tablespoon lemon juice
4-5 tablespoons very soft butter
1 tablespoon chopped fresh tarragon
In a small saucepan, place diced shallot, tarragon, crushed peppercorns, wine vinegar and wine. Cook over medium-high heat until mixture has reduced to ¼ cup; strain and set aside.
In a double boiler, over hot, not boiling water, combine egg yolks, water and lemon juice. Whisk until egg mixture thickens and becomes lemon-colored. Gradually whisk in 4 tablespoons of the butter, one tablespoon at a time, to form a thick sauce. Slowly whisk in the strained tarragon reduction. If sauce is too thin, whisk in remaining tablespoon of the butter. Stir in remaining chopped tarragon. Keep warm.
To serve, slice Chateaubriand into ½-inch thick slices. Serve with Bearnaise Sauce.