Cherry Streusel Coffeecake
| Christy Rost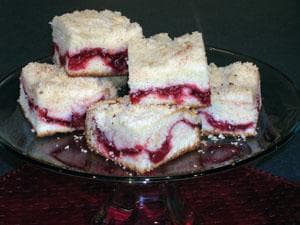 Streusel Topping
1 cup flour
1/3 cup sugar
6 tablespoons cold butter, cut into 1/4-inch cubes
Batter
1/2 cup butter, softened
4 ounces cream cheese, softened
1 cup sugar
2 eggs
1 3/4 cups flour
1 teaspoon baking powder
1/2 teaspoon salt
1/4 teaspoon baking soda
1/2 cup milk
2 teaspoons vanilla
3/4 teaspoon almond extract
1 21-ounce can cherry pie filling
Preheat the oven to 350 degrees. In the bowl of a food processor, add flour, sugar, and butter. Pulse until the mixture forms a dry meal and set it aside.
In a large bowl of an electric mixer, beat the butter and cream cheese until they are blended, add sugar, and beat until the mixture is light. Add eggs, one at a time, mixing well after each addition.
In a small bowl, stir together the flour, baking powder, salt, and baking soda. Add the dry mixture to the creamed mixture, alternately with the milk, beating well to form a thick batter. Stir in vanilla and almond extract.
Spray a 9 x 13-inch pan with nonstick spray. Spoon half of the batter into the pan, tapping it on the bottom to spread the batter evenly. Top the batter with cherry pie filling, and spoon dollops of the remaining batter over the cherry filling; spread with an offset spatula. Sprinkle reserved crumb mixture over the cake.
Bake 30 to 35 minutes, or until a cake tester comes out clean when inserted into the center of the cake.
Yield: one 9 x 13-inch coffee cake