Chicken and Veggie Kabobs with Teriyaki Glaze
| Christy Rost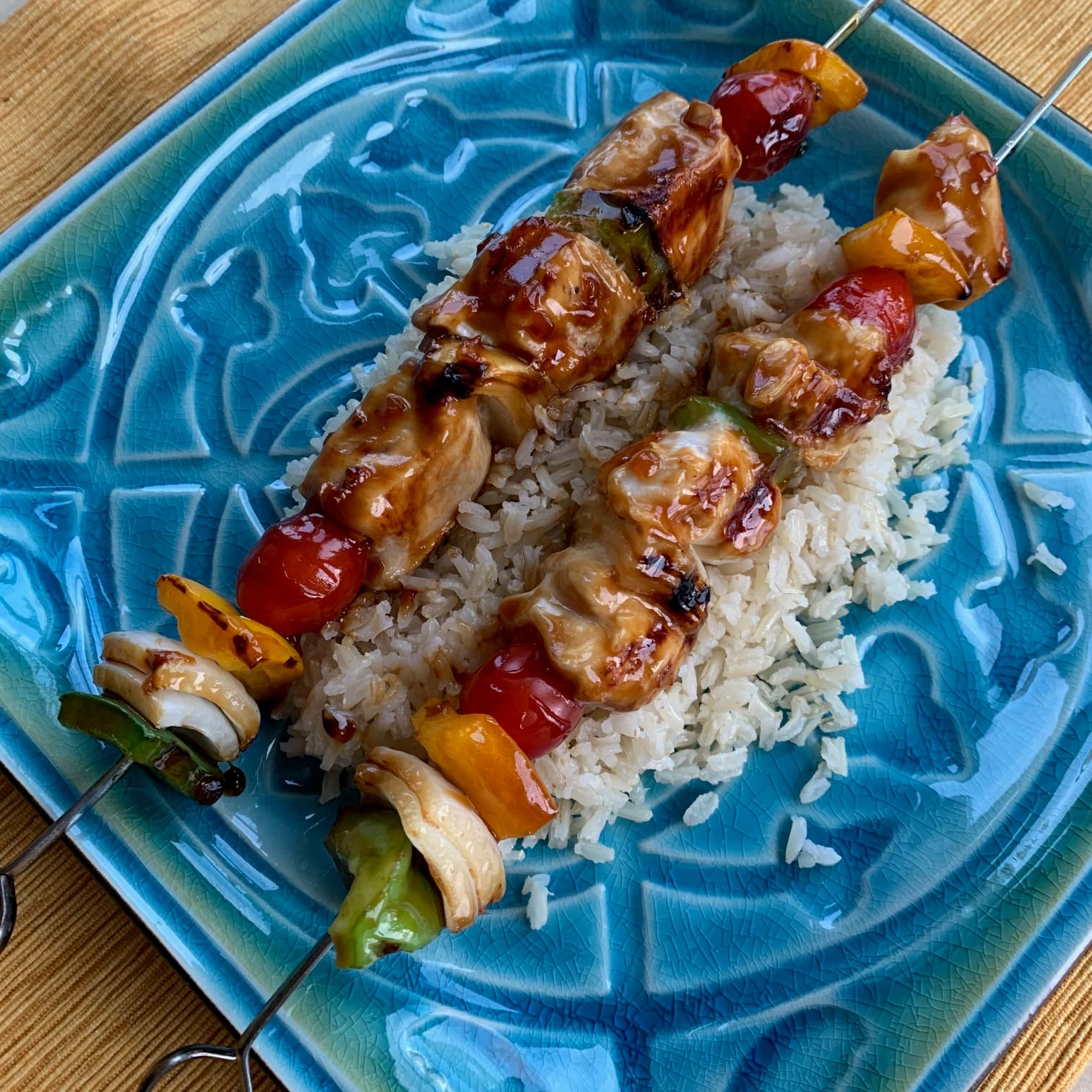 Teriyaki Glaze
1 tablespoon canola oil
2 tablespoons sweet onion, minced
2 large cloves garlic, peeled and minced
1/3 cup soy sauce
2 tablespoons honey
2 tablespoons brown sugar, packed
1 teaspoon rice vinegar
1/8 teaspoon ground ginger
2 teaspoons cornstarch
1 tablespoon water
Kabobs
1 large, boneless, skinless chicken breast
1 large sweet onion, peeled and coarsely chopped
1 large green bell pepper, rinsed, seeded, and chopped into 2-inch pieces
1 large yellow bell pepper, rinsed, seeded, and chopped into 2-inch pieces
10 grape tomatoes, rinsed
5 long metal skewers
Prepared jasmine brown rice
Preheat a small saucepan over medium heat, add oil, and swirl to coat the bottom of the pan. Add onion, cook 1 minute until it begins to soften, add garlic and cook 30 seconds more until it is fragrant. Stir in soy sauce, honey, brown sugar, vinegar, and ginger. While the sauce cooks, place cornstarch in a small bowl, add water, and whisk to form a smooth slurry. Pour the slurry into the sauce, whisking until it is well blended. Reduce the heat to low, and simmer 15 minutes, stirring occasionally.
Thread 1-inch cubes of chicken onto the skewers alternately with onion, peppers, and tomatoes. Preheat a lightly greased grill pan or large skillet over medium-high heat. Arrange the skewers in the pan, and cook 3 to 4 minutes on each side, turning the skewers as the meat browns, for a total of 12 to 16 minutes. Baste the kabobs with teriyaki sauce, cook 1 minute more on each side.
To serve, spoon rice into the center of each plate and arrange kabobs on top.
Yield: 5 kabobs