Chicken Pot Pie
| Christy Rost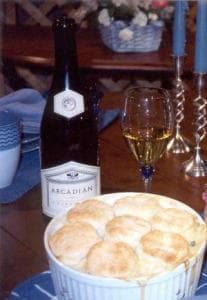 1 3-pound chicken, rinsed
2 carrots, peeled and coarsely chopped
3 bunches fresh celery leaves
1 medium onion, peeled and coarsely chopped
1 bouquet Garni
enough water to cover
1 large potato, peeled and diced (set aside)
Place chicken in a large stockpot. Add carrots, celery leaves, onion and Bouquet Garni. To make Bouquet Garni, place 2 bay leaves, ½ teaspoon whole peppercorns, ½ teaspoon dried thyme leaves, 3 whole cloves and several sprigs fresh parsley in a square of cheesecloth. Gather edges of cheesecloth together and tie with cotton string. Add to stockpot.
Pour in enough water to cover chicken; cover stockpot with lid. Cook over high heat just until water comes to a low boil; reduce heat to low and simmer chicken 1 hour. When chicken is tender, transfer to a large platter; cool until easy to handle. Remove chicken from bones, cutting meat into bite-size pieces.
Bring chicken broth and vegetables back to a boil; reduce volume by one-fourth. Set broth aside for later use. Meanwhile, peel and dice potato. In a medium saucepan, cook potatoes just until tender. Drain; set aside.
Assembly
1/4 cup flour
1 cup plus 2 tablespoons half-and-half
1 3/4 cups strained reserved chicken broth
1 1/4 teaspoons salt
generous grinding of black pepper
reserved chicken pieces
reserved diced potato
3 carrots, peeled and sliced
2 celery stalks, sliced
1/2 medium onion, diced
1 cup mixed vegetables, if desired
In a large saucepan, gradually whisk half-and-half into flour until smooth; pour in chicken broth. Cook over medium heat until sauce thickens, adding a little extra broth if mixture is too thick. Season with salt and pepper. Stir in chicken pieces, potato, carrots, celery, onion, and mixed vegetables if desired. Spoon filling into a large casserole dish. Top with biscuits and bake in a preheated 425-degree oven 40-45 minutes, until casserole is hot and bubbly and biscuits are golden brown.
Biscuits
2 cups flour
3 teaspoons baking powder
1/2 teaspoon salt
1/4 cup shortening
3/4 cup milk
Stir together the flour, baking powder and salt. Cut in shortening until pea-size. Stir in milk all at once. Turn mixture out onto a floured surface. Knead dough several times. Pat into a round disk, about ¾-inch thick. Cut biscuits with a floured biscuit cutter and place on top of casserole. Bake as directed.