Chicken Salad With Wild Rice Platter
| Christy Rost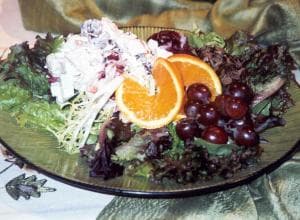 3 large chicken breast halves, cooked and cut into cubes
1 cup red seedless grapes, halved
1/2 cup chopped celery
2 tablespoons diced onion
1/2 cup mayonnaise
2 tablespoons lowfat sour cream
1 tablespoon orange zest
1/4 teaspoon paprika
coarse salt and freshly ground black pepper, to taste
2 1/2 cups cooked wild rice, chilled
salad greens
1 sliced orange with peel, for garnish
In a large bowl, gently toss the chicken, grape halves, celery, and onion just until mixed; set aside.
In a small mixing bowl, stir together mayonnaise, sour cream, orange zest, paprika, salt, and pepper. Pour the mayonnaise mixture over the chicken and stir gently to mix.
Arrange the salad greens on a large platter or individual salad plates and top with a mound of chicken salad. Spray metal timbals or custard cups with nonstick cooking spray. Spoon wild rice into each of the timbals, pressing it with the back of the spoon until it is well packed. Unmold the rice next to the chicken salad, and garnish with thin slices of fresh orange.
Recipe serves 4 to 6.