Christmas Fantasy Cake
| Christy Rost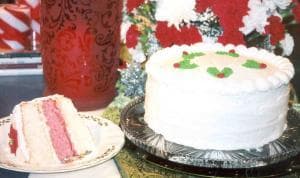 Cake
1 cup unsalted butter, softened
2 cups sugar
3 eggs
2 teaspoons vanilla
3 1/4 cups sifted cake flour
2 1/2 teaspoons baking powder
1/4 teaspoon baking soda
1 teaspoon salt
3/4 cup milk
1/4 teaspoon peppermint extract
1/4 teaspoon red food coloring
Preheat the oven to 350 degrees. In the large bowl of an electric mixer, cream the butter and sugar together until the mixture is light and fluffy, about 8 minutes. Add the eggs, beating well after each egg, and stir in the vanilla.
In a medium bowl, stir together the cake flour, baking powder, baking soda, and salt. Add the flour mixture to the butter mixture alternately with the milk to form a thick batter. Line three 9-inch round cake pans with parchment paper and spray well with nonstick cooking spray. Divide the batter in thirds and spoon it into 2 of the cake pans. To the remaining cake batter, stir in the peppermint extract and red food coloring, blending well. Spoon the tinted batter into the remaining cake pan.
Bake in a preheated oven 25 to 30 minutes, or until a cake tester comes out clean when inserted into the center of the cake. Cool the cake layers on wire racks and frost with buttercream frosting.
Recipe makes one 3-layer 9-inch cake.
Buttercream Frosting
1 cup unsalted butter, softened
1 32-ounce package confectioners sugar, sifted (8 1/2 cups sifted confectioners sugar)
4 to 5 tablespoons half-and-half
1/8 teaspoon salt
1 1/2 teaspoons vanilla
1 candy cane, crushed
In the large bowl of an electric mixer, cream the butter and confectioners sugar with the half-and-half until frosting is thick and fluffy. Stir in the salt and vanilla, blending well.
Frost the first yellow cake layer and sprinkle the frosting with half of the crushed candy cane. Top with the pink cake layer, some of the frosting, and the remaining crushed candy cane. Place the remaining yellow cake layer on the pink layer and frost the sides and top of the cake. Pipe a decorative border around the perimeter of the cake and garnish with edible holiday decorations from ExpressCreations, or as desired. www.express-creations.com.