Christmas Plum Pudding
| Christy Rost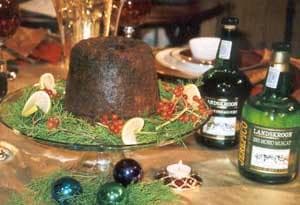 3 cups soft white bread crumbs
3/4 cup brown sugar, packed
2/3 cup milk
3 eggs
3/4 cup sifted cake flour
1 teaspoon cinnamon
3/4 teaspoon baking soda
1/2 teaspoon salt
1/2 teaspoon freshly grated nutmeg
1/4 teaspoon ground mace
1/4 cup bourbon whiskey
3/4 cup dark raisins
1/2 cup golden raisins
1/4 cup dried currants
1/2 cup mixed fruit and peel
1/2 cup cold unsalted butter, diced
In a large mixing bowl, combine bread crumbs, brown sugar, and milk. Beat with an electric mixer until well blended, add eggs, and beat until the mixture is light; set aside.
In a medium bowl, stir together the cake flour, cinnamon, baking soda, salt, nutmeg, and mace; set aside.
Heat bourbon whiskey in a small saucepan over low heat just until warm. Stir in dark raisins, golden raisins, and currants. Set mixture aside, stirring occasionally, until the raisins and currants are softened, about 20 minutes.
Meanwhile, bring a kettle of water to a boil and keep hot. Stir the flour mixture into the milk mixture, blending well. Stir in the mixed fruit and peel and the softened raisins and currants, along with any bourbon whiskey that remains in the saucepan. Stir in diced butter.
Grease a 2 quart tin plum pudding mold or a large heat-proof bowl. Spoon pudding into the mold, cover with a piece of parchment paper, and cover mold with a tight-fitting lid. If using a large bowl, secure parchment paper in place with string. Place mold on a wire rack set on the bottom of a deep Dutch oven, fill Dutch oven with boiling water to a depth of 1 inch, and cover the Dutch oven tightly with a lid.
Bring the water to a boil, lower the heat to medium-low, and steam the pudding 2 to 2 ½ hours until it is set. As the pudding steams, add additional hot water to the Dutch oven as needed to maintain a depth of 1 inch.
When the pudding is set, remove the mold from the Dutch oven, remove the metal lid, and allow pudding to cool 1 hour. To serve, unmold the pudding and serve with hard sauce.