Christmas Wreath Breads
| Christy Rost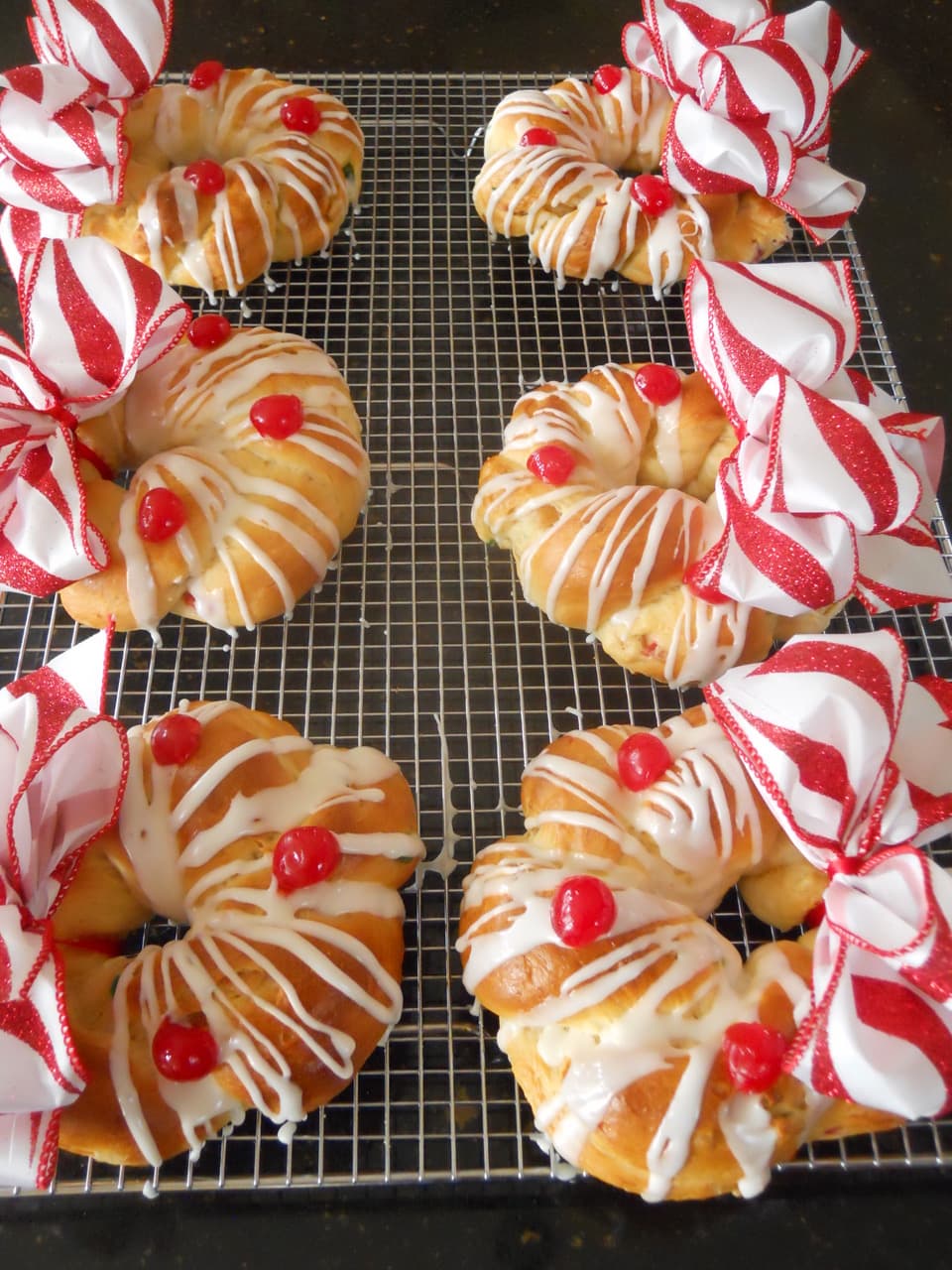 1 ½ cups milk
½ cup unsalted butter
½ cup sugar
1 teaspoon salt
2 packages active dry yeast
4 ½ to 5 cups bread flour
2 eggs
2/3 cup chopped candied fruit
½ cup golden raisins
2 tablespoons butter, melted
1 recipe Decorative Icing
6 maraschino cherries
In a medium saucepan, stir together milk, butter, sugar, and salt. Heat over medium heat, stirring occasionally, until the milk is lukewarm and the butter begins to melt; set aside.
In a large bowl, combine yeast and 2 cups of the flour. Pour in the warm milk mixture and beat 2 minutes on medium speed with an electric mixer, scraping the sides of the bowl often. Add eggs and beat 1 minute more.
With a large wooden spoon, stir in candied fruit, raisins, and enough of the remaining flour to form a soft dough. Turn the dough out on a floured surface and knead until it's smooth and elastic, incorporating a little additional flour as needed to keep the dough from sticking to the surface.
Transfer the dough to a large ,greased bowl, turning it once to grease the top surface. Cover with a towel and set it aside in a warm place until the dough has doubled in size, about 40 minutes.
Punch the dough down and turn it out onto a lightly floured surface. Knead just until it is smooth, about 1 minute. Divide it into six equal portions. Working with one portion of dough at a time, cut it into thirds and roll each into a 10-inch rope with your hands. Braid the ropes to form a long loaf, shape the loaf into a wreath, and tuck the ends under. Transfer to a greased cookie sheet, cover with a towel, and set it aside in a warm place to rise. Proceed with remaining portions. Preheat the oven to 350 degrees. When the loaves have doubled in size, brush with melted butter and bake 18 to 20 minutes, or until the breads are golden brown and sound hollow when tapped with your finger. Remove them from the oven and transfer the breads to a wire rack to cool. When they are cool, decorate with Decorative Icing and tie each with a large bow.
Decorative Icing
1 ½ cups sifted confectioners' sugar
2 to 3 tablespoons milk
¼ teaspoon vanilla extract
Whisk together confectioners' sugar, milk, and vanilla until smooth. Drizzle the icing back-and-forth over the breads with a spoon.
Slice maraschino cherries in half and drain them face down on paper towels. Place the cherries cut side down around the perimeter of the breads.
Yield: 6 personal-size wreath breads