Cornbread, Chorizo, And Apple Dressing
| Christy Rost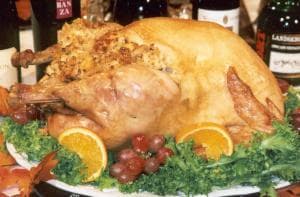 8 cups cubed cornbread
2 slices dry wheat bread, sliced into 1/2-inch cubes
1 cup coarsely crushed tortilla chips
2 stalks celery, diced
1 cup diced onion
1 large apple, cored and chopped
2 tablespoons dry rubbed sage
6 ounces bulk chorizo sausage
1 egg
1 3/4 cups chicken broth
Preheat the oven to 350 degrees. In a large bowl, combine cornbread, wheat bread, tortilla chips, celery, onion, apple, and sage; stir and set aside.
Preheat a small nonstick skillet over medium heat. Add the chorizo and cook 3 minutes until the sausage is hot and bubbly. Stir chorizo into the dressing mixture and mix well.
In a small bowl, beat the egg with a fork and stir in the chicken broth. Pour the mixture all at once into the dressing mixture and stir until the bread is moistened. Spray a large casserole dish lightly with nonstick cooking spray, spoon the dressing mixture into the casserole, and cover it tightly with foil. Bake in a preheated oven 35 minutes until it is heated through; then uncover and bake 15 minutes more until the top is crisp.
Recipe serves 10.