Cornbread Sticks
| Christy Rost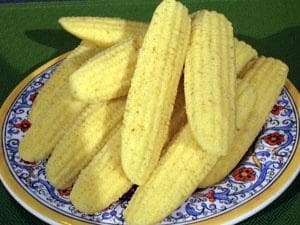 1 cup flour
1/2 cup cornmeal
1 tablespoon sugar
1 1/2 teaspoon baking powder
3/4 teaspoon salt
1 egg
3/4 cup milk
1/4 cup canola oil
2 cast iron cornstick pans
Preheat the oven to 375 degrees. In a medium bowl, stir together flour, cornmeal, sugar, baking powder, and salt; set aside.
In a small bowl, whip egg with a fork and stir in milk and oil. Pour the egg mixture all at once into the flour mixture and stir just until blended. Spray baking pans with nonstick vegetable spray and spoon the batter into the pans, filling each indentation one-half full.
Bake 12 minutes or until the cornbread sticks are golden and a cake tester comes out clean when inserted into the center of the cornbread. Remove and set them aside 2 to 3 minutes to cool slightly, then remove them from the pans and serve.
Yield: 14 cornbread sticks