Cracker Bread With White Bean And Roasted Garlic Purée
| Christy Rost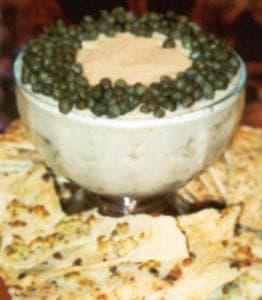 2 heads garlic, peeled
1/4 cup olive oil
2 19-ounce cans cannellini beans, drained and rinsed
1/2 teaspoon coarse salt
1/4 teaspoon white pepper
3 tablespoons capers, rinsed, or chopped black olives
assorted cracker breads
Preheat the oven to 350 degrees. Place peeled garlic in a small heat-proof bowl and add olive oil. Roast the garlic in a preheated oven 30 minutes or until it is soft. Remove it from the oven and set aside to cool slightly.
Purée cannellini beans in the bowl of a food processor. Add roasted garlic, the garlic-infused olive oil, salt, and white pepper; purée until the mixture is smooth.
Spoon the mixture into a 2 ½-cup soufflé dish. To garnish, spoon capers or chopped black olives around the edge of the bean purée. Serve with assorted cracker breads.
Recipe makes approximately 2 ½ cups purée.