Cream Of Mushroom Soup
| Christy Rost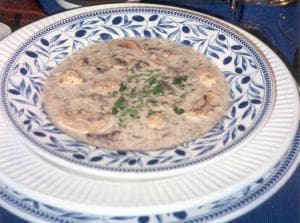 1 pound mushrooms
6 tablespoons unsalted butter
1 medium onion, chopped
3/4 cup diced celery
1/4 cup flour
4 cups chicken or vegetable broth
3 tablespoons Martini & Rossi Dry Vermouth
1 cup heavy cream
1/8 teaspoon white pepper
1 salt to taste
1 tablespoons chopped parsley for garnish
Place mushrooms in a colander. Rinse with cold water and dry with paper towels; slice. Reserve 3 cups mushroom slices; coarsely chop remaining mushrooms and set aside.
Melt butter in a dutch oven over medium heat. Add onion and celery; cook 5 minutes, stirring occasionally, until onion is soft and translucent. Stir in chopped mushrooms; cook 2 minutes until mushrooms are soft. Sprinkle with flour; cook 1 minute, stirring constantly.
Gradually add broth, stirring until mixture is smooth. Cook until soup is hot, but do not boil. Add vermouth, cream and reserved mushroom slices. Bring soup back up to temperature, but do not boil. Season with salt and white pepper. When soup is hot, ladle into cups or bowls. Sprinkle with chopped parsley.
Recipe serves 6 to 8.