Cream Scones
| Christy Rost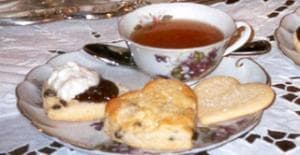 2 1/2 cups flour
3 tablespoons sugar
2 1/2 teaspoons baking powder
1 teaspoon salt
1/2 cup cold unsalted butter
1/3 cup dried currants
1 egg
1 cup heavy whipping cream
1/2 teaspoon vanilla
1 tablespoon water
2 tablespoons sparkling sugar or granulated sugar
seedless raspberry jam and whipped cream
Preheat oven to 375 degrees. In a large bowl, stir together flour, sugar, baking powder and salt. Slice butter into 8 pieces; cut into flour mixture with a pastry blender until butter is pea-size. Stir in currants.
In a small bowl, beat egg slightly with a fork; stir in cream and vanilla. Pour cream mixture all at once into flour mixture, stirring to form a soft dough. Do not overmix.
Turn dough out onto a lightly floured pastry cloth or counter and knead a few times until smooth. Flecks of butter should still be visible. Roll dough to a 3/ 4-inch thickness. Cut with a 2 1/ 4-inch biscuit cutter and place scones on a lightly greased cookie sheet.
Whip egg and water in a small bowl to form an egg wash. Brush mixture over top of scones. Sprinkle with sparkling sugar or granulated sugar. Bake 15-17 minutes until scones are puffed and golden brown. Serve warm or at room temperature with jam and sweetened whipped cream.
Recipe makes approximately 15 scones.