Crunchy Peanut Butter Cookies
| Christy Rost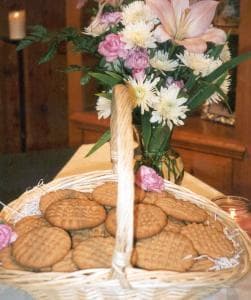 1/2 cup unsalted butter, softened
1/2 cup shortening
1 cup crunchy peanut butter
1 cup granulated sugar
1 cup light brown sugar, packed
2 eggs
2 1/2 cups flour
3/4 teaspoon baking powder
1/2 teaspoon salt
1/4 teaspoon baking soda
Preheat the oven to 375 degrees. In the large bowl of an electric mixer, cream butter, shortening, and peanut butter until well blended. Gradually add the granulated sugar and brown sugar, creaming until the mixture is light. Add eggs and beat well; set aside.
In a medium bowl, stir together the flour, baking powder, salt, and baking soda. Using a large spoon, stir the flour mixture into the butter mixture in thirds, blending well after each addition.
Roll tablespoon-size scoops of cookie dough between floured hands to form round balls and place them 2 inches apart on lightly-greased cookie sheets. Flatten the cookies crisscross style with a fork dipped in flour. Bake them in a preheated oven 8 to 10 minutes, or until the cookies are lightly browned. Remove them from the oven, cool 1 minute until they are firm, and using a metal spatula, transfer them to wire racks to cool completely. Cookies may be stored 1 week in airtight containers.
Recipe makes 3 ½ dozen 3-inch cookies.