Duck Breasts With Cranberry Balsamic Glaze
| Christy Rost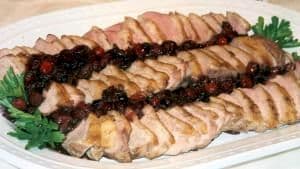 6 to 8 duckling breasts
salt and freshly ground black pepper
1/2 cup red wine
2/3 cup beef broth
1/4 cup black cherry juice
2 tablespoons fig balsamic vinegar (or plain balsamic)
2 tablespoons sugar
1/2 teaspoon demi glace
1/4 - 1/2 teaspoon coarse salt
1 1/2 cups fresh cranberries
Preheat oven to 400 degrees. Rinse duckling breasts and dry them on paper towels. Trim the skin to the shape of the meat. Using a sharp knife, score the skin to form a diamond pattern, taking care not to pierce the meat. Season well with salt and pepper.
Heat a nonstick skillet over medium heat. Place the duck breasts, skin side down, in skillet. Cook 8 to 10 minutes until skin is brown and crisp, draining excess fat as needed. Turn the meat and cook 3 to 5 minutes to sear it.
Transfer the duck breasts to a roasting pan, and roast in a preheated oven 20 to 25 minutes, or until the meat is pink inside. Drain fat from the skillet and deglaze the pan with red wine, beef broth, and cherry juice, stirring to loosen brown bits from the skillet. Add balsamic vinegar, sugar, demi glace, and salt; stir well. Bring the mixture to a boil over medium heat and cook 1 minute, stirring constantly. Add cranberries and cook 5 minutes more, or until it has thickened, stirring occasionally.
Remove duck breasts from the oven, slice them at an angle, and arrange the meat on a platter. Spoon cranberry balsamic glaze into the center of the platter and serve.
Recipe serves 6 to 8.