Easter Bunny Cake
| Christy Rost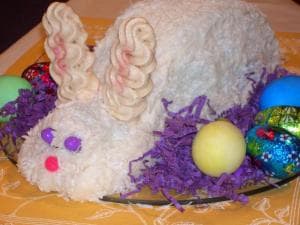 Chocolate Sour Cream Cake
2 1/4 cups sifted cake flour
3/4 cup cocoa
1 1/4 teaspoons baking powder
1 teaspoon salt
1/2 teaspoon baking soda
3/4 cup unsalted butter, softened
1 1/2 cups sugar
4 eggs
3/4 cup sour cream
1/3 cup milk
1 teaspoon vanilla
1 1/2 cups sweetened flaked coconut, for garnish
tiny jelly beans to form bunny eyes and nose
Preheat oven to 350 degrees. In a medium bowl, stir together cake flour, cocoa, baking powder, salt, and baking soda; set aside.
In the large bowl of an electric mixer, cream butter and sugar until light and fluffy, about 8 minutes. Add eggs, one at a time, beating well after each addition. Gradually beat flour mixture into creamed mixture, alternately with the sour cream and milk, to form a very thick, creamy batter. Stir in vanilla.
Grease and flour two 9-inch round cake pans and insert paper liners into two cups of a muffin tin. Spoon enough batter into the muffin cups to fill each cup ½ full. Spoon the remaining batter into the cake pans. Bake the cupcakes 13 to 15 minutes and the cakes 25 to 30 minutes, or until a cake tester inserted into the center of the cakes comes out clean. Remove the cupcakes and cake from the oven and cool the cakes 20 minutes. Remove them from the pans and cool completely on a wire rack.
Buttercream Frosting
3/4 cup unsalted butter, softened
2 pounds confectioners sugar
dash of salt
2/3 cup milk
1 1/2 teaspoons vanilla
In the large bowl of an electric mixer, cream butter until smooth. Gradually add ¼ of the confectioners sugar and the salt, and cream well. Beat in remaining confectioners sugar, alternately with the milk until the frosting is thick. Stir in the vanilla.
Meringue Bunny Ears
3 egg whites
1/2 teaspoon cream of tartar
1/2 teaspoon vanilla
1 cup sugar
pink Luster Dust, for garnish, if desired
Preheat oven to 225 degrees. In the large bowl of an electric mixer, whip egg whites until foamy. Add cream of tartar and vanilla. Whip until the whites form soft peaks. Add sugar, a little at a time, and whip until whites are glossy and form stiff peaks.
Transfer meringue to a piping bag fitted with a large star tip (Ateco #6). Line a cookie sheet with parchment paper, adding a dab of meringue to each corner of the cookie sheet to secure the paper. Pipe 4-inch length bunny ears with a zigzag motion. Bake in a preheated oven 1 hour. Turn the oven off and allow bunny ears to dry 2 to 3 hours with the oven door closed. Peel off the parchment paper, cool bunny ears completely on a wire rack, and store between layers of parchment paper in airtight containers.
To Assemble Bunny Cake:
Slice 1 cake layer in half, turn upside down, and frost with buttercream. Place the 2 layers together and stand them upright to form the body of the bunny. Remove the paper liner from one cupcake, turn it upside down, and place it at one end of the cake to form the head. Frost the bunny with buttercream, adding extra buttercream where the head and body are joined. Garnish the cake with coconut.
Just before serving, insert jelly beans into frosting to form bunny eyes and nose. Gently insert meringue ears into the frosting where the cupcake joins the body. If desired, brush the inside of the ears lightly with pink Luster Dust. Repeat with remaining cake layer and cupcake.
Recipe makes 2 cakes.