Easter Bunny Cupcakes
| Christy Rost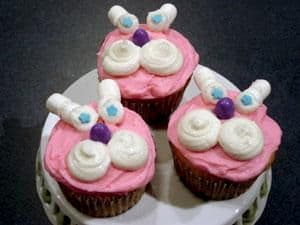 2 dozen cupcakes
1/2 cup unsalted butter, softened
4 cups sifted confectioners' sugar
Dash of salt
5 to 7 tablespoons milk
1 teaspoon vanilla
Pink and black food coloring
1/2 cup miniature marshmallows, for garnish
Jelly beans, for garnish
Round or star-shaped confetti cake decors
In the large bowl of an electric mixer, cream butter, confectioners' sugar, and salt, adding milk as needed to form a creamy consistency. Stir in vanilla.
Divide the frosting in half and tint one half pink. Place ¼ cup of the white frosting in a small bowl, add black food coloring, and stir well. Transfer the black frosting to a small cake decorating bag fitted with a small plain tip. Transfer the remaining white frosting into a large cake decorating bag fitted with a large plain tip.
Frost the cupcakes with pink frosting and set them aside. To form bunny ears, place a small dot of white frosting on the flat edge of half of the marshmallows and top them with a second marshmallow; set them aside.
Pipe 2 mounds of white frosting on top of each cupcake to form bunny cheeks. Insert a pink or purple jelly bean at the top of the cheeks to form the nose. Add marshmallow "ears", pipe a small dot of white frosting at the base of each ear, and insert blue or green cake decors for the eyes. Pipe whiskers on top of the cheeks with black frosting.
Recipe makes 2 dozen cupcakes.