Ghostly Pumpkin Cupcakes
| Christy Rost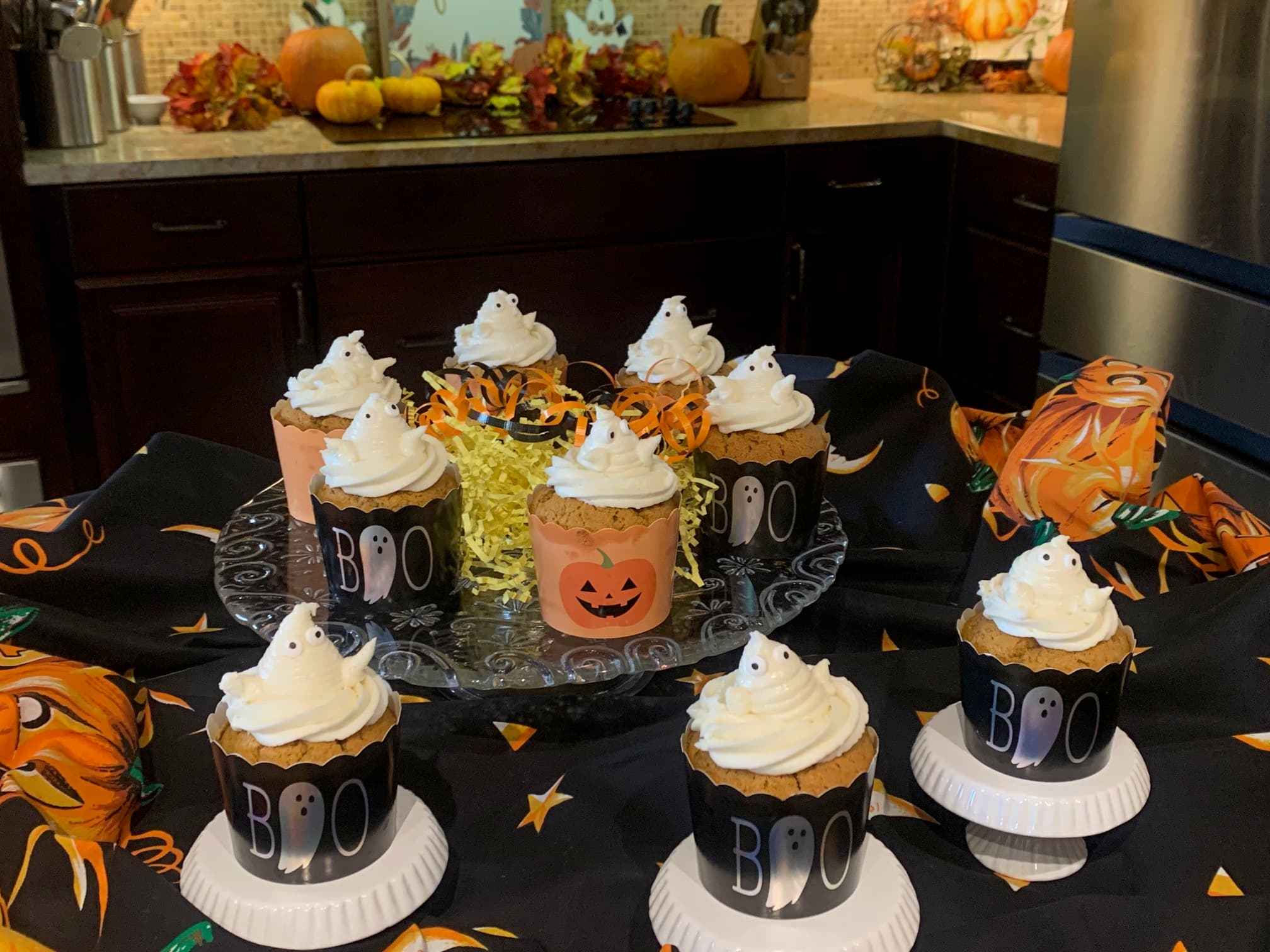 1 cup unsalted butter, softened
1 cup granulated sugar
½ cup dark brown sugar, packed
1 cup canned pumpkin puree (not pumpkin filling)
2 eggs, at room temperature
¾ cup milk
2 ½ cups flour
3 teaspoon baking powder
½ teaspoon baking soda
½ teaspoon salt
2 teaspoons Saigon cinnamon
1 teaspoon freshly grated nutmeg
1 teaspoon ground ginger
½ teaspoon ground cloves
1 package 5-ounce Halloween baking cups
1 package candy eyeballs
Adjust the oven rack to the middle of the oven and preheat to 350 degrees. In the large bowl of an electric mixer, cream butter and sugars until the mixture is light and fluffy, about 8 minutes. Add pumpkin, mix briefly, then add eggs one at a time, beating well after each addition. Stir in vanilla.
In a medium bowl, stir together flour, baking powder, baking soda, salt, cinnamon, nutmeg, ginger, and cloves. Gradually beat the flour mixture, alternately with the milk, into the creamed mixture.
Fill baking cups 2/3 full and rap each cup on the counter several times to settle the batter. Place baking cups on a cookie sheet and bake 35 to 40 minutes, or until a tester inserted into the center of the cupcakes comes out clean. Transfer the cupcakes to a wire rack to cool completely. Decorate with Cream Cheese Frosting.
Cream Cheese Frosting
1/3 cup unsalted butter, softened
3 ounces cream cheese, softened
6 cups sifted confectioners' sugar
3 to 4 tablespoons milk
dash of salt
1 teaspoon vanilla
In the large bowl of an electric mixer, beat the butter and cream cheese until they are well blended. Gradually add the confectioners' sugar, alternately with the milk, and the salt, beating until the frosting is thick and fluffy. Stir in the vanilla.
Divide frosting into three decorator bags – one with a large fluted tube, one with a large plain tube, and one with a small plain tube. Pipe a fluted border around the perimeter of each cupcake, leaving the center open. Using a large plain tube, pipe a mound of frosting in the center to form a ghost. Add arms using the small plain tube and garnish with candy eyes.
Yield: 16 cupcakes