Grand Marnier Valentine Bundt Cake
| Christy Rost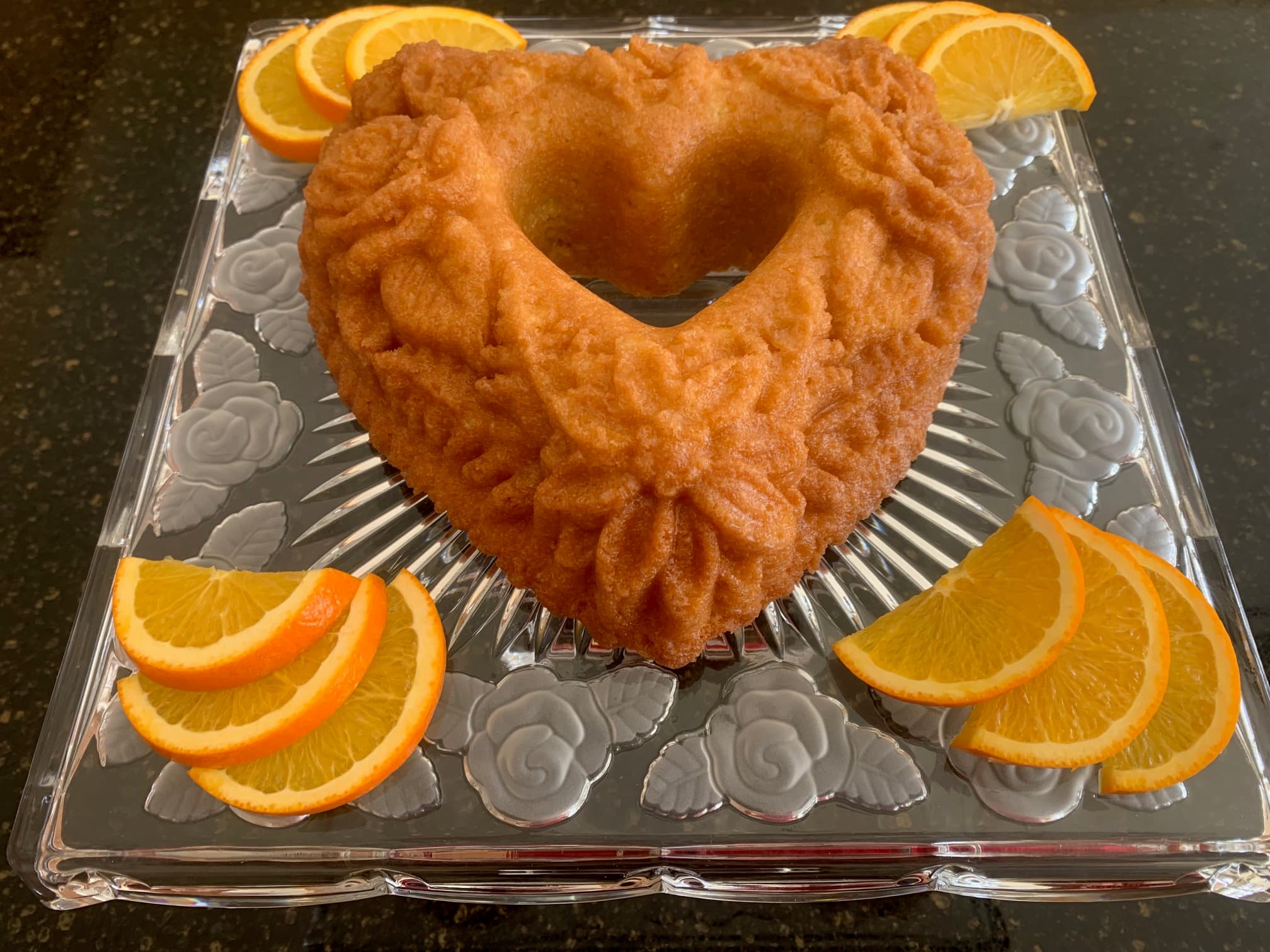 1 ¼ cups flour
½ teaspoon baking powder
Pinch of baking soda
½ teaspoon salt
6 tablespoons unsalted butter, softened
¾ cup sugar
1 tablespoon orange zest
2 eggs, at room temperature*
2 tablespoons milk
2 teaspoons Grand Marnier
1 teaspoon vanilla
Nordic Ware Floral Heart Bouquet Bundt pan (6 cup capacity)
Position the oven rack in the center of the oven and preheat to 350 degrees. In a medium bowl, stir together flour, baking powder, baking soda, and salt until well blended; set it aside.
In the large bowl of an electric mixer, cream butter, sugar, and orange zest until light and fluffy, about 8 minutes. Add eggs, beating well after each addition. Gradually add flour mixture to creamed mixture alternately with the milk, beating until the batter is thick. Add Grand Marnier and vanilla, mixing well.
Spray the 6-cup heart-shaped bundt pan well with nonstick baking spray-with-flour. Spoon the batter into the pan, tap it several times on the bottom to settle the batter into the pan, and bake 30-33 minutes or until a tester inserted into the cake comes out clean. Remove the cake from the oven and set it on a wire rack to cool. When the cake is almost cool, run a sharp knife along the center of the pan to loosen the cake, tap it several times on the bottom, place a wire rack over the top of the cake, and invert it to display the cake's floral pattern.
Brush gently with Grand Marnier syrup, allowing it to soak into the cake and drip down the sides. Set the cake aside until the syrup has set. Transfer the cake to a platter and garnish as desired.
Grand Marnier Syrup
In a small bowl, whisk together ½ cup sifted confectioners' sugar and ¼ cup Grand Marnier until the syrup is smooth.
*Chef's Note: For a moister cake, use 3 large eggs instead of 2
Yield: 1 cake