Roasted Chicken with Irish Whiskey Reduction
| Christy Rost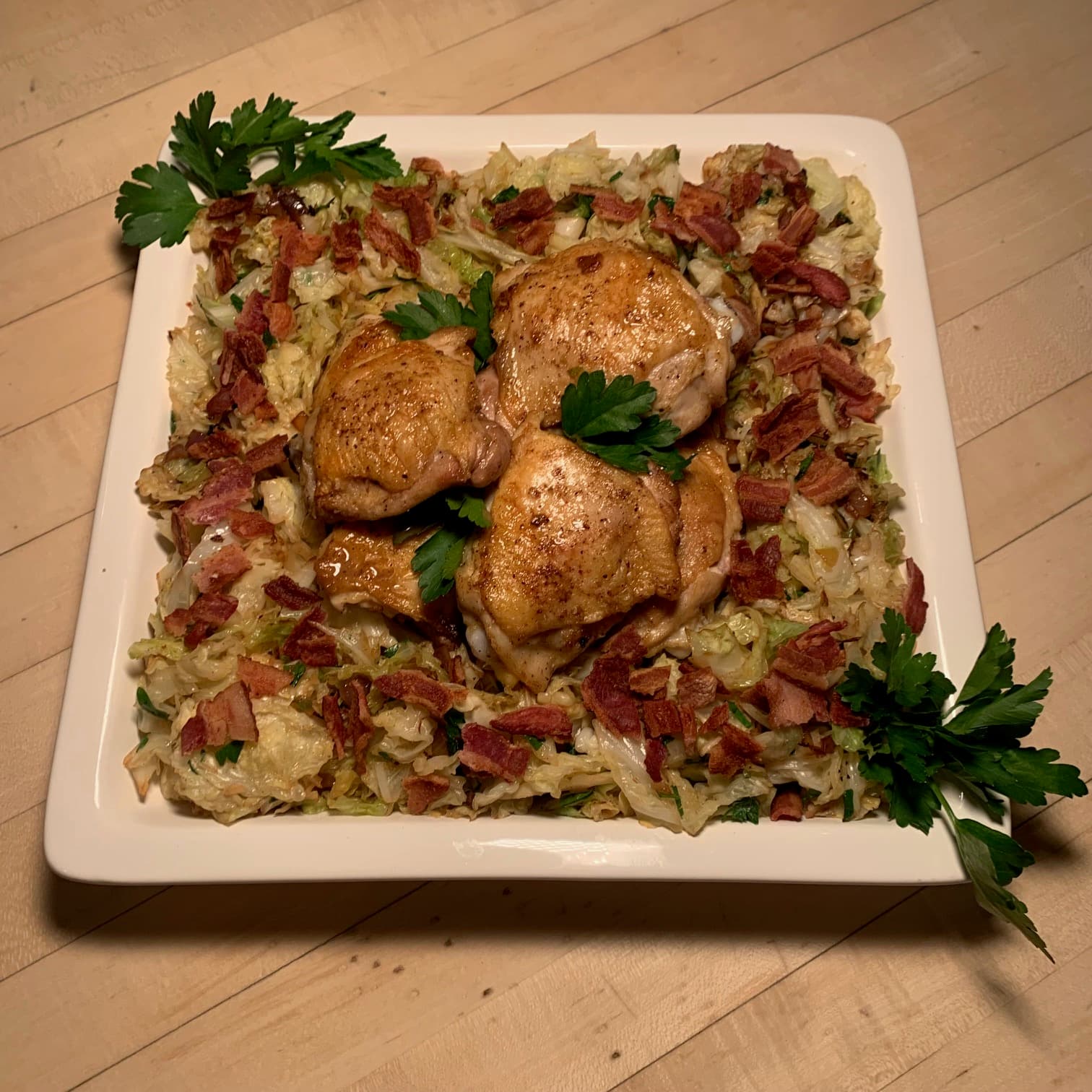 6 large chicken thighs, skin on
Coarse sea salt and freshly ground black pepper, to taste
1 tablespoon olive oil
3 large cloves garlic, peeled and minced
1 cup Irish whiskey
1 cup chicken stock or broth
4 sprigs fresh parsley, rinsed, for garnish
Preheat oven to 350 degrees. Season chicken on both sides with salt and pepper. Preheat a large skillet over medium-high heat, add olive oil, and swirl to coat the bottom of the pan. Place chicken thighs in the skillet skin side down, sear 4 to 5 minutes until the skin is dark golden brown, then flip over and cook 3 minutes. Transfer the meat to a roasting pan, pour off chicken fat, and reserve the skillet for the sauce. Roast meat, uncovered, 40 to 45 minutes or until it is done and registers 165 degrees on an instant read thermometer.
Fifteen minutes before the chicken is done, reheat the skillet over medium high heat, stir in garlic and saute 1 minute. Deglaze the pan with whiskey and chicken stock, bring it to a boil, and cook until the liquid reduces by half, stirring frequently. Season sauce with pepper. Transfer chicken to a serving platter and spoon whiskey reduction over chicken.
Serving Suggestion: Serve roasted chicken with Wilted Savoy Cabbage and Crumbled Bacon. Arrange wilted cabbage around the perimeter of a serving dish, garnish cabbage with crumbled bacon, and arrange chicken in the center. Spoon sauce over chicken, garnish platter with parsley, and serve.
Yield: 6 servings
Serve over Wilted Savoy Cabbage with Crumbled Bacon