Sour Cream Pancakes with Bananas Foster Syrup
| Christy Rost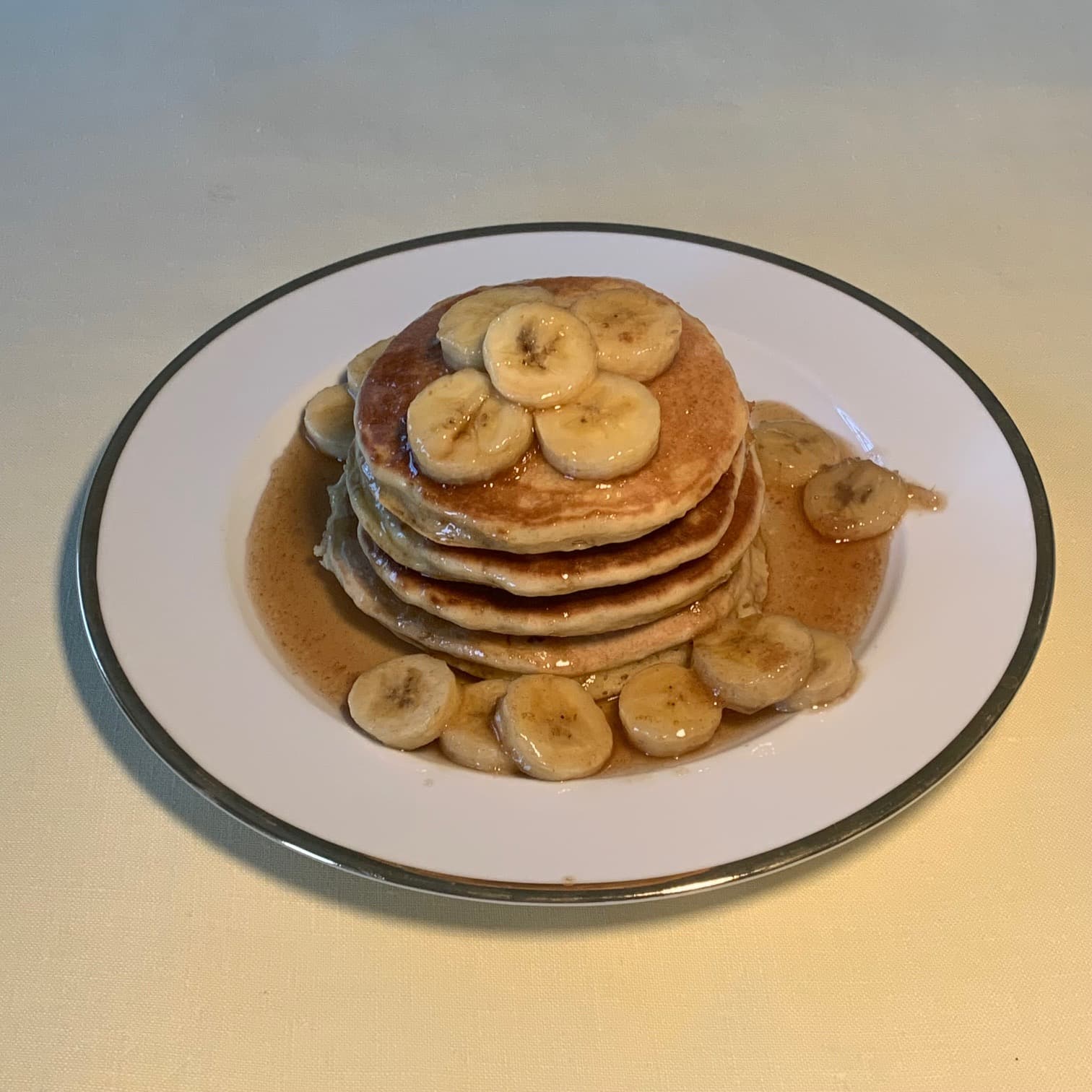 Pancakes
2 cups flour
1 tablespoon sugar
1 teaspoon baking powder
1 teaspoon baking soda
¾ teaspoon salt
3 eggs
1 cup milk
½ cup sour cream
1 ½ teaspoons vanilla
Preheat the oven to 175 degrees. Lightly grease a griddle or large nonstick skillet with vegetable oil and heat over medium heat.
In a large bowl, stir together flour, sugar, baking powder, baking soda, and salt until well blended. In a medium bowl, whisk eggs, then whisk in milk, sour cream, and vanilla. Pour the milk mixture into the flour mixture, stirring just until the ingredients are incorporated.
Ladle the batter onto the griddle, adjusting heat if needed, to form 4 ½-inch round pancakes. When bubbles form on top and the underside is golden brown, flip the pancakes and cook until the underside is browned. Transfer them to a large platter, cover with foil, and place in the oven to stay warm. Continue with remaining batter and serve with Bananas Foster Syrup. Yield: 16 4 1/2 -inch pancakes
Bananas Foster Syrup
3 firm ripe bananas, peeled
½ cup unsalted butter
1 cup light brown sugar, packed
1 cup maple syrup
2 tablespoons rum or ½ teaspoon rum extract
Slice bananas into ½-inch thick slices and set them aside. Melt butter in a large skillet over medium-low heat. Add brown sugar, maple syrup, rum, and vanilla, and stir until the mixture is smooth. Raise the heat to medium, bring it to a boil, and cook until it foams, stirring frequently. Cook 5 minutes more, then reduce the heat to simmer and stir in bananas. Transfer to a chafing dish and keep warm.
Yield: 5 to 6 cups syrup