Apple Crisp
| Christy Rost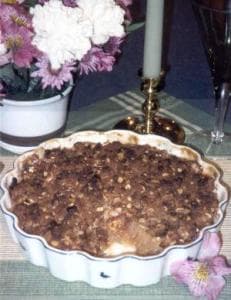 3 pounds Granny Smith or other baking apples (about 8)
2/3 cup sugar
2 tablespoons flour
1 1/4 teaspoons cinnamon
1/2 teaspoon nutmeg
1/4 cup golden raisins
Wash, peel, core and slice apples. Layer apple slices in a 10-inch baking dish. In a small bowl, mix together the sugar, flour, cinnamon and nutmeg. Pour over apples. Sprinkle with raisins.
Streusel Topping
1 cup brown sugar, packed
1/2 cup old fashioned oats
1 1/2 teaspoons cinnamon
2 tablespoons flour
3 tablespoons melted butter
In a medium bowl, stir together brown sugar, oats, cinnamon and flour. Pour in melted butter; stir well with a spoon to mix. Mixture will be crumbly. Sprinkle streusel mixture over apples.
Bake apple crisp at 350 degrees for 50-55 minutes until bubbly and apples are tender when pierced with a knife. Serve warm or cold with a scoop of vanilla ice cream, if desired.
Recipe makes one 10-inch apple crisp.