Cornish Game Hens With Brandy Plum Sauce
| Christy Rost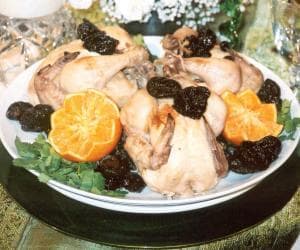 4 Cornish game hens, about 20 ounces each
salt
1 small onion, peeled and quartered
1 tablespoon butter, melted
1 stalk celery, diced
1 small onion, peeled and diced
1 large carrot, peeled and diced
2 tablespoons blackberry brandy
1 cup dried plums
coarse salt, to taste
freshly ground black pepper, to taste
Preheat oven to 400 degrees. Thaw the game hens, remove the gizzards, and rinse well. Pat dry with paper towels. Season the inside cavity with salt, stuff with onion quarter, and tie the legs together with string. Transfer the game hens to a roasting pan and brush them with melted butter.
Place the diced celery, onion, and carrot around the game hens and cover the pan with a tent of foil. Roast 20 minutes, reduce the temperature to 350 degrees, and roast an additional 40 minutes. Remove the foil, baste with some of the pan juices, and roast until the skin is golden brown, about 15 minutes.
Remove from the oven, transfer the game hens to a warm platter, and cover them loosely with foil. Pour the pan juices and roasted vegetables (mirepoix) into a fine sieve set over a medium saucepan, pressing on the vegetables with the back of a spoon to extract their juices. Cook the pan juices over medium-high heat and reduce the volume by one-third. Stir in the blackberry brandy and dried plums, and season the sauce with salt and freshly ground black pepper. Cook several minutes until the plums are heated through. Spoon the sauce over the game hens and serve.
Recipe serves 4.