Cranberry Orange Scones
| Christy Rost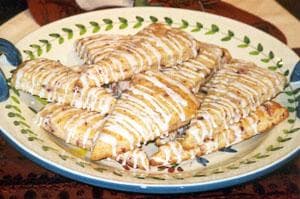 2 cups flour
1/4 cup sugar
2 teaspoons baking powder
3/4 teaspoon salt
1/2 cup fresh or frozen cranberries
1/2 cup cold unsalted butter, cut into small pieces
1 egg
3 tablespoons orange juice
zest of 1 orange
3 to 4 tablespoons half and half
1 egg, for egg wash
1 tablespoon water, for egg wash
1 tablespoon sugar, for garnish
2 cups sifted confectioners sugar, for glaze
2 to 3 tablespoons milk, for glaze
Preheat the oven to 375 degrees. In a large bowl, stir together flour, sugar, baking powder, and salt until well blended; set aside.
In a small food processor, pulse the cranberries until they are coarsely chopped, and add them to the flour mixture.
In a small bowl, beat the egg with a fork and stir in orange juice and orange zest. Pour the mixture into the flour mixture, add 3 tablespoons of the half and half, and stir just until the mixture comes together. If the dough is too dry, stir in the remaining half and half. Turn the dough out onto a floured pastry cloth or counter and knead it several times until it is smooth.
Roll out the dough into a 13-inch by 4 ½-inch rectangle with a thickness of 5/8-inch, using a metal pastry scraper to keep the edges even. Cut the dough into triangles with the pastry scraper or a sharp knife and transfer the scones to a lightly greased cookie sheet.
In a small bowl, beat the remaining egg with 1 tablespoon of water to form an egg wash. Brush the egg wash over the tops of each scone and sprinkle with the remaining sugar. Bake them in a preheated oven 15 to 17 minutes, or until the tops are golden brown. Remove them from the oven and transfer them to a wire rack to cool.
When scones are completely cool, whisk confectioners sugar and milk together in a small bowl to form a thick glaze. Drizzle the glaze over the scones in a back and forth motion and set them aside until the glaze has dried.
Recipe makes 8 to 10 scones.