Crispy Confetti Halloween Pops
| Christy Rost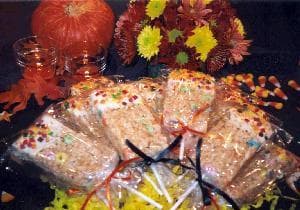 1/4 cup butter or margarine
1 10.5-ounce bag miniature marshmallows
5 cups toasted rice cereal
1 cup Froot Loops
6 ounces white chocolate
decorator sprinkles
12 6-inch lollipop sticks
12 4"x9" clear cellophane bags
12 13" lengths orange or black satin ribbon
Melt butter in a large saucepan over low heat; add marshmallows and stir to mix. Cook mixture, stirring occasionally, until marshmallows melt and mixture is very smooth. Remove saucepan from heat.
Immediately stir in cereals, stirring well to mix completely. Spray a 9"x13" pan with nonstick cooking spray and transfer cereal mixture to prepared pan. Spray fingertips with nonstick spray; then press cereal mixture evenly into the pan. Set pan aside 1 hour until mixture is firm and completely cool.
With a sharp knife, slice cereal mixture into 12 equal rectangles. Remove rectangles and place on parchment paper which has been sprayed with nonstick vegetable spray. Insert lollipop sticks two-thirds of the way into each rectangle.
Melt white chocolate in a small microwaveable bowl at 50% power for 1 ½ minutes, or until chocolate is soft. Stir until chocolate is completely melted and smooth. Dip crispy pops into melted chocolate and sprinkle with autumn or Halloween confetti sprinkles. Place pops on a wire rack until chocolate sets. If desired, place rack in refrigerator until chocolate is firm.
For trick-or-treaters, place confetti pops into individual cellophane bags and tie with ribbon.
Recipe makes twelve 4 ½-inch confetti pops.